100% Custom Designed to Fit Your Space, Needs & Budget
Short Lead Times to Installation Compared to Other Providers
Best Overall Value & We Stand Behind It With Our Price Guarantee*
Locally Made in the USA, Right Here in Portland. Professionally Installed
Murphy Bed by Portland Closet Company: Transform Any Room or Space into a Guest Room with a Custom Hidden Wall Bed
---
Seamlessly integrate a space-saving wall bed into a home office, exercise room, studio or another area to create a multi-functional space and provide a comfortable place for your guests to sleep. Accommodate the rare guest without sacrificing the everyday functionality of your space. Looking for space-saving solutions that are functional and stylish? Our custom Wall Beds use the original mechanism designed and patented by the Murphy Bed Company.
Living room or bonus room storage by day and guest room by night.
Maximize your square footage without a costly remodel.
Watch Murphy Bed Video Below of Limitless Wall Bed Designs and Inspiration for Your Space:
---
Our innovative Murphy Beds are custom-built in Portland, Oregon, and convert your extra spaces into sleeping spaces with style. Our talented designers can help you create spaces that are as functional as they are beautiful, giving you the flexibility and space to entertain overnight guests anytime you choose. Our Murphy Wall Beds are comfortable and built to last, with no need for regular maintenance. Because they are constructed using high-quality materials and designed to exceed typical engineering standards, our Murphy Beds are able to withstand daily use. To ensure maximum comfort, we always recommend outfitting our custom wall beds with a high-end mattress such as Simmons Beautyrest or Comforpedic Memory Foam. Any mattress up to 10 inches thick will fit properly. Extending legs can also be added for compatibility with thicker mattresses up to 12″.
Fully Customizable Murphy Bed Designed to Fit Your Budget & Space
---
Custom Specifications

Bed Size (Twin, Full or Queen)

Side Cabinets & Storage

Finishes & Colors
Adjustable Shelving

Doors (many styles)

Drawers (many styles)

Hardware
Night Stand Drawer

Table & Desk Surface

LED Lighting

Home Office + Much More!
Don't Take Our Word, Hear What Clients Say About Our Wall Murphy Beds

140+ Five-Star Reviews!
---

"We put a queen size wall bed with storage cabinets. Our guests rave about the comfort of the slumberpedic mattress that came with the wall bed and I'm really happy with how everything looks and functions. Highly recommend PCC!"
Guest-room Queen Murphy Bed Review

"The design for our home office Murphy bed was flawless and the installation team from Portland Closet was the icing on the cake! We could not more highly recommend the designers, installers, and the Portland Closet Company. 5 star plus company!"
Home Office with Murphy Bed Review

"Without reservation, I highly recommend this wonderful company, its beautiful products, and its outstanding staff. I am very grateful customer. This company really stands behind its product - and they have a very good number of offerings."
Wall Bed Review

"I have to say working with Shanna was a breath of fresh air. She is professional and has a keen eye for design. Her response time was amazing and the wall bed unit was delivered and installed on time. What more can you ask for?"
Wall Bed with Side Storage Review
Read More 5-Star Reviews on Our Murphy Beds
On Average, Our Murphy Bed Services Cost
Less Than Other Wall Bed Companies in Portland
Our clients on average save over lots on their projects. We strive to offer the best overall value when it comes to price and quality for your custom reach-in or walk-in closet, murphy bed, home office, garage storage cabinets, custom pantry, or other project!
Locally, Family Owned and Operated for 35+ Years
One of the Most Experienced Wall Murphy Bed Providers in Oregon
Let's face it, finding a company that has real customer service is difficult especially with larger companies and franchises that have their bureaucracy. From its inception, Portland Closet Company has stood for doing the right thing for our clients, our employees and their families, our community and our environment. With over 15,000 clients and 35+ years in the business, we are experts in designing, manufacturing, and installing custom closets, home office setups, garage cabinet solutions, murphy wall beds, and custom storage organization. Our designers have years of experience and are ready and willing to help you design the perfect custom solution for your space.
Made in the USA: Locally Manufactured in Portland, OR
Professionally Installed by Experienced Installers
Our Murphy beds are made in the USA. They are locally manufactured in Portland, Oregon with high-quality materials and craftsmanship. We believe in supporting local businesses and take pride in providing jobs to our community. Additionally, our team of experienced installers will ensure that your Murphy bed is professionally installed, making the process easy and stress-free for you. We understand that the installation process can be daunting, but with our team, you can trust that your Murphy bed will be installed safely and securely.
How We Customize & Transform Your Space With a Murphy Bed in 4 Simple Steps
1. Schedule a Free Design Consultation
We connect you with one of our experienced, seasoned design consultants. They will assess your vision, space, style, needs & budget and collaborate on an awesome custom design.
2. Awesome 3D Video & Model Renderings
Your wall bed designer will create inspiring 3D digital renderings of your future space so that you can better your new custom space. Together, you'll revise the design until it's exactly what you want.
3. Custom Built Wall Beds & Locally Manufactured
We custom build your murphy bed system with the best materials in North America and Europe from the hardware to the finish. We locally cut and build your system in our shop in Portland, Oregon. Always local!
4. Professional Installation by Experienced Installers
We only hire experienced installers and they are always employees. Our professionals will install your custom system. Enjoy your new space with a worry free limited lifetime warranty.
Wall Bed Design Ideas for Your Space
---
Get the most out of your space by adding a wall bed or murphy bed to your home, condo, loft, studio apartment, guest bedroom, or even a home office. You will have a fully functioning, comfortable place for guests at night and a versatile livings space by day. Our custom wall bed and murphy bed cabinetry hides your bed within built-in cabinets so you can enjoy your living space without taking up the space of a bed whatever your use is for the space whether a workout room, home office or even a den.
Almost Limitless Design Options
---
Our custom Murphy beds are customized to match your lifestyle and individual needs, with full installation. Now let's talk about value. In a recent analysis of the current real estate market, where the average Portland condominium cost is $1000 a square foot, we estimate that replacing a regular queen-size bed with a Murphy Bed can free up $12k worth of space. This space-saving solution not only saves space, but adds value to your home.
Whether you are looking for vertical, side tilt, library wall bed, or stand-alone models, our Murphy Wall Beds are fully customizable to meet the specific needs of your home and your lifestyle. With features such as flip-up desks, pull-out nightstands, and handy pillow cubbies, our beds are the perfect solution for all your space and storage challenges. With our wall bed systems, crowded rooms become spacious, order emerges from chaos, and life feels a whole lot easier. There are no limits to what we can do for you. Here are just a few of the options: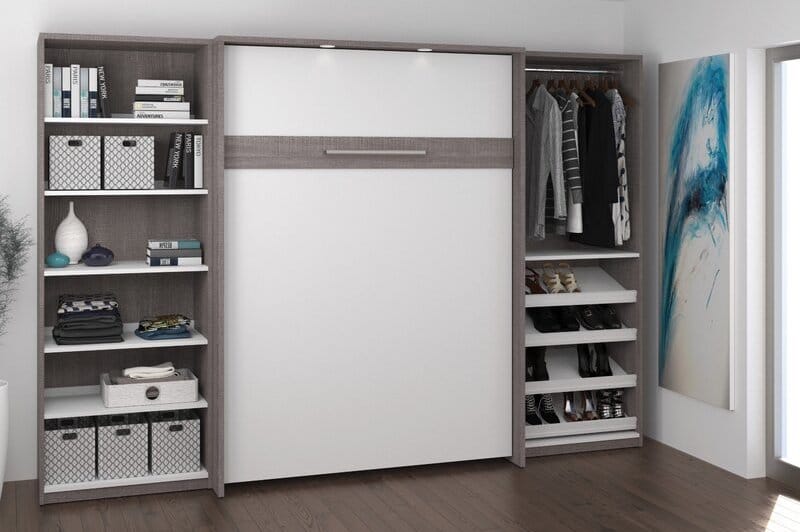 Vertical Murphy Bed
Make room for the things that matter with the installation of a wall bed. This is a great option for the budget-conscious, rooms with limited space, or those looking to add more sleeping options, like a guest room.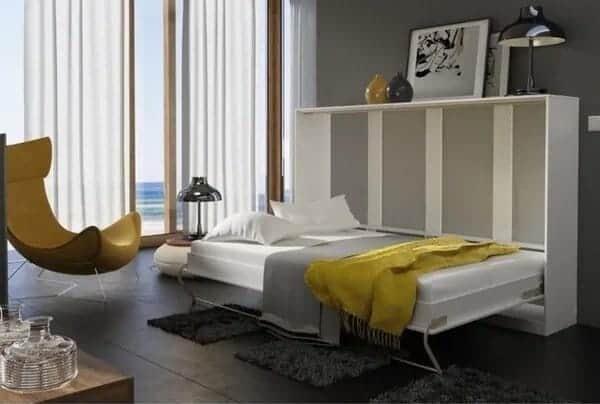 Horizontal Side Tilt Wall Bed
Side tilts beds are placed in a horizontal orientation, an alternative to the traditional upright. It is a great space-saving option for under windows, tight and awkward spaces, or rooms with low ceilings.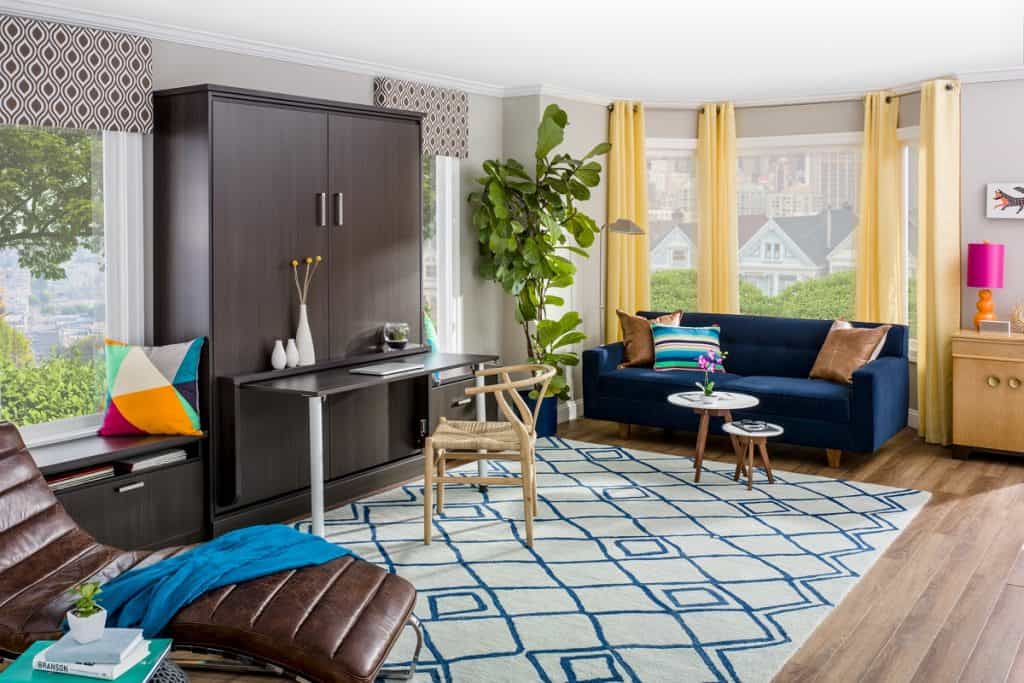 Flip-up Desk
A flip-up desk is a convenient space saver, that adds a work surface perfect for working on your laptop, paying bills, doing homework, and so much more.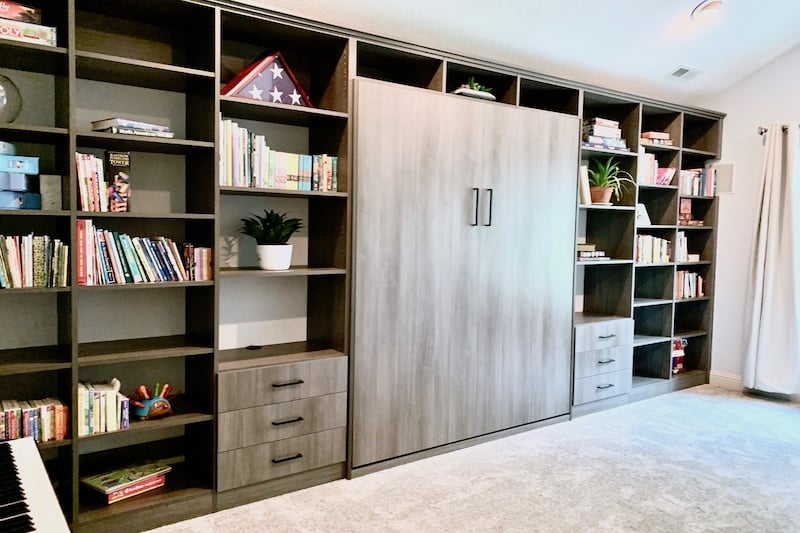 Side Cabinets, Shelving & Storage
Side cabinets can accommodate wardrobe storage, bookshelves, collection displays, linens, etc. Cabinets can be customized with many combinations drawers, doors and extra shelving.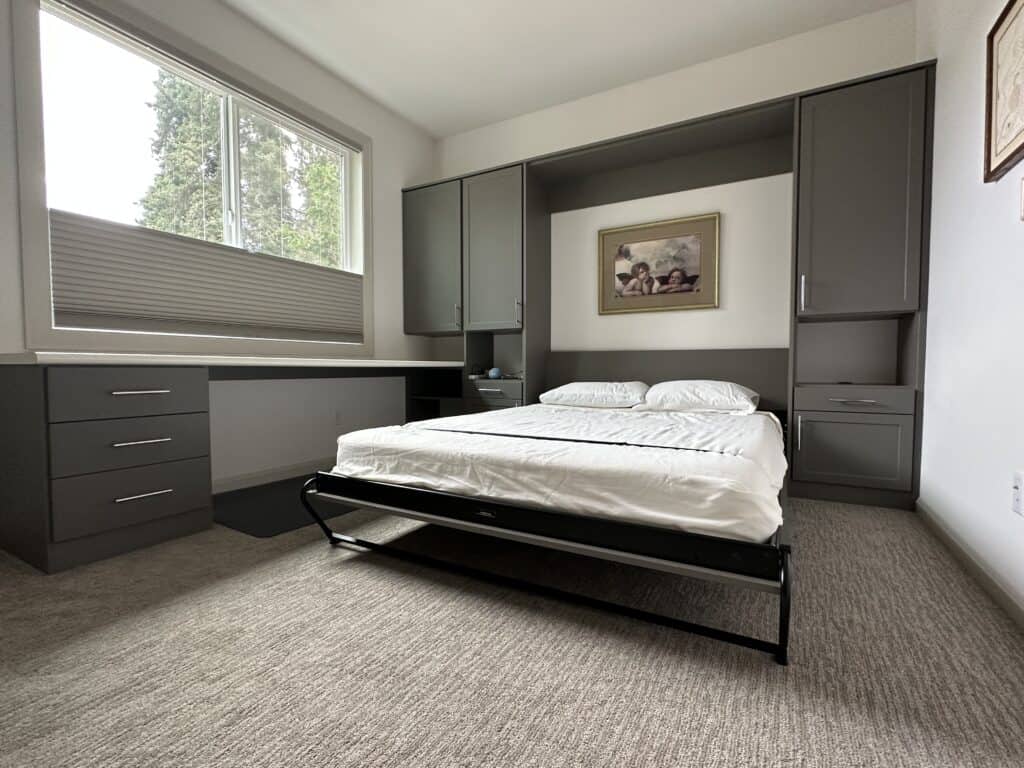 Home Office
Keeping your working and living spaces separate is ideal, but it's not always possible. A custom home office system can be integrated with a custom-designed wall bed. Learn more on our Home Office page.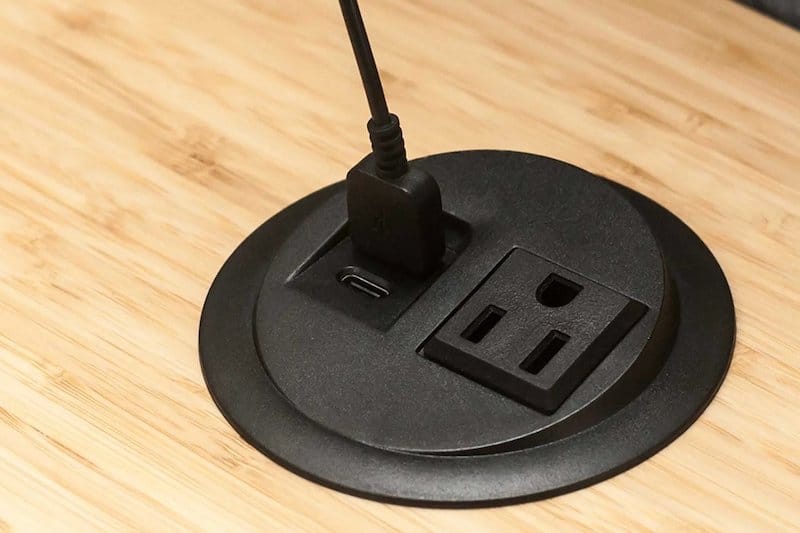 Power Grommets
Must have power grommet to eliminate the need of fishing chords through grommet holes and behind obstructions. These popular power grommets include a USB charging port as well.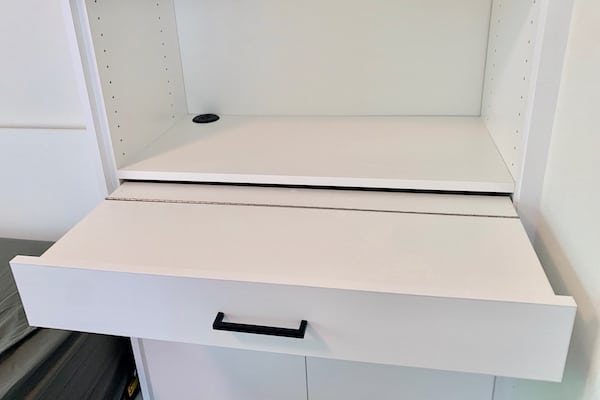 Pull-out Nightstand
What might look like a drawer is our pull-out nightstand. It is great resting place for all those things you like to keep beside you while you sleep.
LED Lighting
Add energy efficient lighting right where you need it with optional reading lights on one or both sides of the bed. Add lighting to side cabinets to showcase your shelf displays.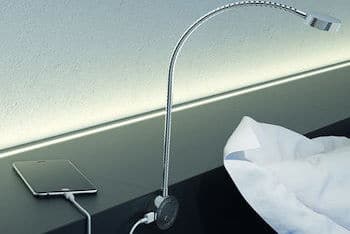 Flexible Lights w/UBS Charges
Add energy efficient lighting right where you need it with optional reading lights with built-in USB chargers for your guests to charge devices.
The History of the Murphy Bed
---
In the late 1890s, William Lawrence Murphy, the brains behind the Murphy Bed, had a problem. He was an eligible bachelor with his eye on a lovely young opera singer—and no respectable way to woo her. According to the moral code of the time, Murphy's San Francisco one-room apartment wasn't suitable for entertaining female guests.
If necessity is the mother of innovation, his desire surely motivated Murphy to find a solution. By designing the world's first fold-up bed using pivot and counterbalance technology, Murphy could easily stow his bed away, transforming his humble bedroom into a salon appropriate for mixed company.
Even though we've never found a credible ending to the actual story, we like to think that Murphy married the girl, secured the patent, and lived happily ever after. Who knows?
What we do know, is that since the late 1990s, Portland Closet Co., has been providing innovative solutions for your biggest space-saving challenges.
Choose the Space You Want to Customize & Transform. We'll do the Rest!
---
Enjoy quality craftsmanship, custom designed for your space, style, and budget. We'll design, manufacture, and install your project. We provide 3D video and photo renderings to help you visualize your project better. Thank you for supporting a local, family owned business!
SCHEDULE A FREE DESIGN CONSULTATION
---
Meet in the comfort of your home or in our Pearl District showroom!
GET STARTED TODAY