100% Custom Designed to Fit Your Space, Needs & Budget
Short Lead Times to Installation Compared to Other Providers
Best Overall Value & We Stand Behind It With Our Price Guarantee*
Professional Installation by Experienced Installers
Transform Your Custom Home Office into a Functional, Comfortable & Aesthetically Pleasing Work Space:
---
A custom-designed office that reflects the style and comfort of the rest of your home is a place you'll want to work. Our custom home office designs are beautiful, practical, and customized to suit you. Common home office features include:
Desk Surface
A spacious work surface helps you tackle those lists and allows for more comfort.
Murphy Bed
Create a multipurpose home office with a wall bed. Work by day, guest room by night.
File Drawers
Reduce clutter, store and file documents in organized style with custom filing drawers.
Printer Drawer
Keep your printer out of sight while still easily accessible with a pull out printer tray.
Custom Home Office with Murphy Bed
---
The perfect backdrop for all of your meetings, this home office is light and airy. With an earthy wood grain finish, the space feels both open and professional. Plenty of storage options and a double workstation set up keeps everything, and everyone, where they need to be.
• A lighter wood grain finish helps to not make the space feel crowded or cramped.
• A hidden wall bed disguised as a large cabinet is perfect for turning your home office into a guest room, without sacrificing on space or aesthetics.
• Plenty of cabinet and drawer space to help keep your things organized and private. Including locking file drawers and heavy duty shelves for office equipment.
Home Office with Wood Grain Accent Finish
---
If you don't have a dedicated office space in your home, we can help turn another room into a multipurpose space. A built-in desktop and dry bar turns a blank wall into a stylish and functional space. Black cabinets and drawer faces stand out against the white countertops, creating an elegant and modern feel.
• Lateral file drawers are perfect for keeping your private files secured.
• Stark dark stone countertops and bold black door and drawer faces are accented by the brushed nickel hardware. Making this space feel modern and chic while also maintaining the utility.
• Energy efficient LED puck lights mounted under the upper cabinets are perfect for reading reports or mixing drinks.
Home Office with Queen Wall Bed
---
Dark grey dominates this design to turn an empty room into a multifunctional space. A long laminate countertop becomes a work space by day and at night, the wall bed disguised as a cabinet turns this space into a guest room. Cabinets and shelves add a touch of softness to this otherwise heavy color scheme.
• Energy efficient LED lighting helps to not only see what you're working on but also display your statement pieces in glass cabinets.
• Polished chrome hardware stands out against the warm wood tones of the Storm Grey finish.
• Utilize every inch of space with corner shelves and plenty of drawers and cabinets.
Dual Work Space Home Office Design
---
Make the most of your space with this double workstation design. The dark Cordoba Pine finish makes a bold statement in an otherwise light space. Paired with the light gray laminate countertop and polished chrome hardware, this space oozes modernity and style.
• Added backing on the shelves and work stations makes this office space feel truly built in.
• Energy efficient LED puck lights keep the dark wood finish from feeling heavy and help to highlight anything you may want to display on the shelves.
• Large cabinets and drawers make for the perfect spot to store your files or office supplies.
Custom Home Office Designed to Fit Your Style, Budget & Space
---
Custom Specifications

Murphy Bed

Upper & Lower Cabinets

Finishes & Colors
Adjustable Shelving

Doors & Drawers (many styles)

Wire & Keyboard Management

Pulls or Knobs
Work or Table Surface

Pull Out Trays

File Drawers

Grommets + Much More!
Don't Take Our Word, Hear What Clients Say About Custom Home Office

140+ Five-Star Reviews!
---

"We put a queen size wall bed with storage cabinets. Our guests rave about the comfort of the slumberpedic mattress that came with the wall bed and I'm really happy with how everything looks and functions. Highly recommend PCC!"
Read Full Review

"The design for our home office Murphy bed was flawless and the installation team from Portland Closet was the icing on the cake! We could not more highly recommend the designers, installers, and the Portland Closet Company. 5 star plus company!"
Read Full Review

"Without reservation, I highly recommend this wonderful company, its beautiful products, and its outstanding staff. I am very grateful customer. This company really stands behind its product - and they have a very good number of offerings."
Read Full Review

"I had a wonderful experience working with PCC. Rose was the designer I worked with, and she designed a perfect custom walk-in closet solution. I am very happy with the end quality and result. I'll definitely be back for our next project!"
Read Full Review
Read More 5-Star Reviews on Our Custom Home Office Jobs
On Average, Our Home Office Services Cost
Less Than Other Built-in Home Office Companies in Portland
Our clients, on average, save lots on their projects. We strive to offer the best overall value when it comes to price and quality for your custom reach-in or walk-in closet, murphy bed, home office, garage storage cabinets, custom pantry, or other project!
Locally, Family Owned and Operated for 35+ Years
One of the Most Experienced Home Office Providers in Oregon
Let's face it, finding a company that has real customer service is difficult especially with larger companies and franchises that have their bureaucracy. From its inception, Portland Closet Company has stood for doing the right thing for our clients, our employees and their families, our community and our environment. With over 15,000 clients and 35+ years in the business, we are experts in designing, manufacturing, and installing custom closets, home office setups, garage cabinet solutions, murphy wall beds, and custom storage organization. Our designers have years of experience and are ready and willing to help you design the perfect custom solution for your space.
How We Customize & Transform Your Workspace With a Custom Home Office in 4 Simple Steps
1. Schedule a Free Home Office Design Consultation
We connect you with one of our experienced, seasoned design consultants. They will assess your vision, space, style, needs & budget and collaborate on an awesome custom design.
2. Awesome 3D Video & Model Renderings of Office Space
Your home office designer will create inspiring 3D digital renderings of your future space so that you can better your new custom space. Together, you'll revise the design until it's exactly what you want.
3. Custom Built Home Office & Locally Manufactured
We custom build your home office system with the best materials in North America and Europe from the hardware to the finish. We locally cut and build your system in our shop in Portland, Oregon. Always local!
4. Professional Installation by Experienced Installers
We only hire experienced installers and they are always employees. Our professionals will install your custom system. Enjoy your new space with a worry free limited lifetime warranty.
Custom Home Office Design Ideas to Enhance Your Workspace
---
With working from home becoming increasingly more popular and practical, make sure your home office space is functional and stylish. Add some flair to your home office space with a stone, laminate, formica, or wood desk top and custom designed shelving and cabinets. You'll be the envy of every zoom call. Let us help you design a home office that you can work from and works for you.
Almost Limitless Design Options
---
Our home office designs are customized to match your lifestyle and individual needs, and always includes full installation. There are no limits to what we can do for you. Here are just a few of the options: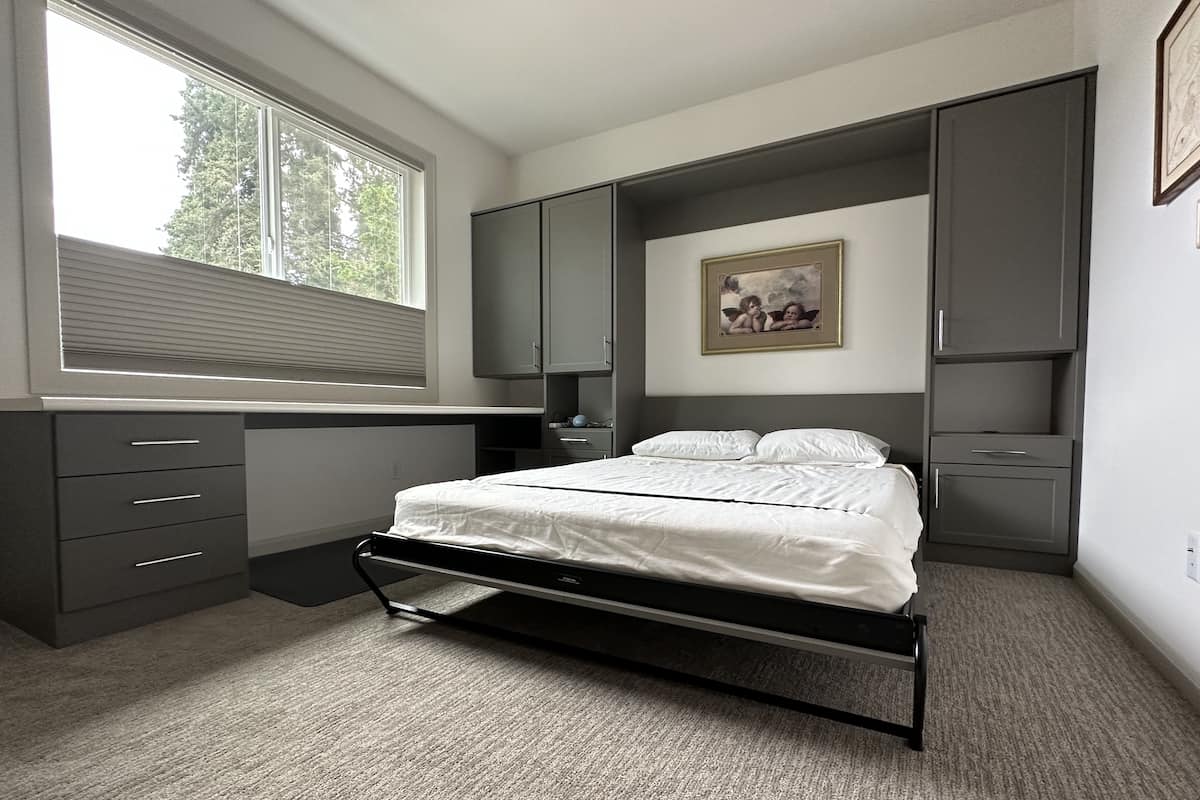 Guest Room & Home Office
We can customize your home office space to perform multiple functions, including a guest room. An integrated wall bed tucked behind a bookshelf or cabinet door allows the space to convert conveniently. Learn more about our wall murphy beds page.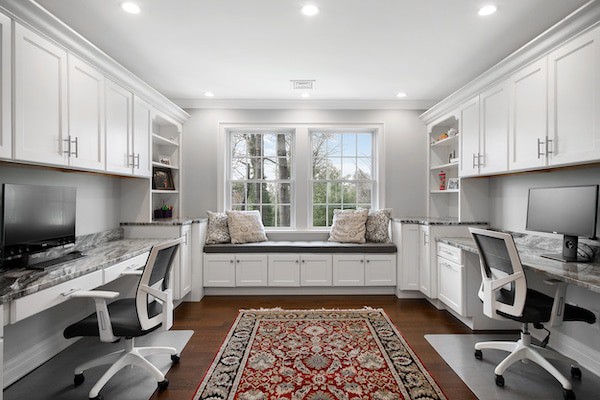 Shared Workspace or Office
Family workspace is an office that is flexible for all members of the family, from kids to adults. Having individual workspaces designed to fit your home allows each person to have a place to call their own in order to get into their flow of work.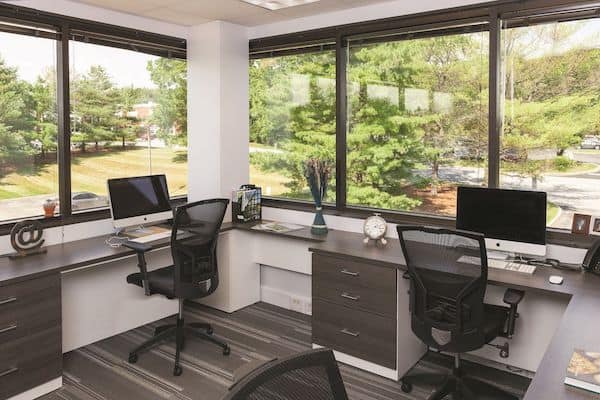 Commercial Office Space
Are you a small business owner? Let us help you design your commercial office space, avoiding the cubical feel, to an environment that beautiful, efficient and productive. We can help with a custom, functional space.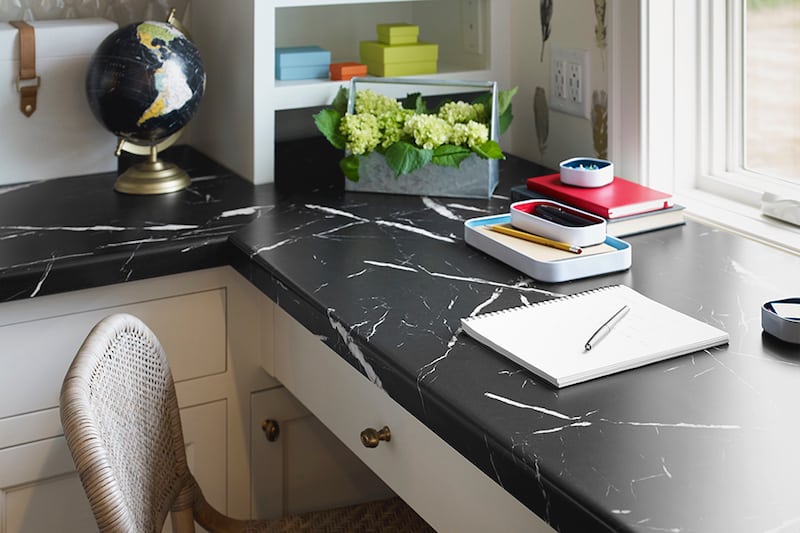 Desk & Work Surface
A good desk or work surface is essential in any home office. Let our expert designers help you choose the right desktop for your custom home office design. Whether it's laminate, formica, wood, or stone, it will be the right one for you.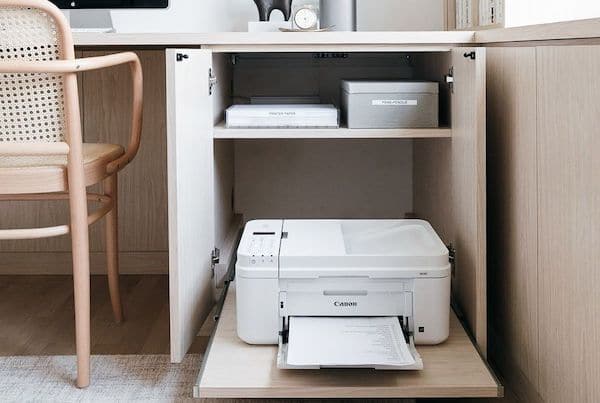 Pullout Printer Drawer
There's not much you can do to beautify needed office equipment. However, you can hide unsightly items like your printers or cords through the use of our accessories.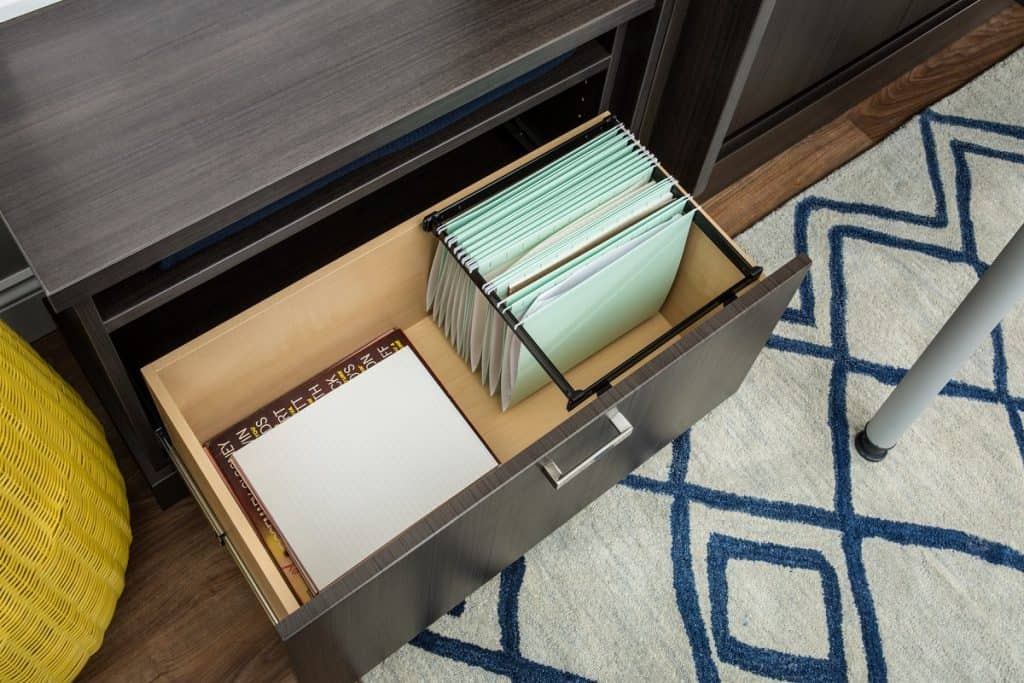 File Drawer & Storage
Storage is often overlooked when designing a home office and can really affect your productivity. Many home offices have limited square footage, so using space efficiently is our priority. We offer several file storage size options.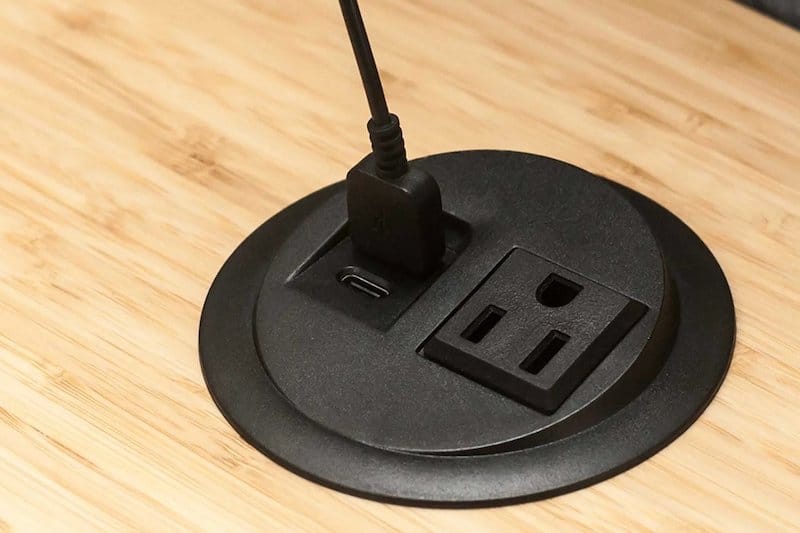 Power Grommets
You should not be limited by outlet location when choosing where to set up shop in your home office. Allow us to help with power grommets. With a plug and USB ports, these will help you break free from wall outlets and allow you to work where you want.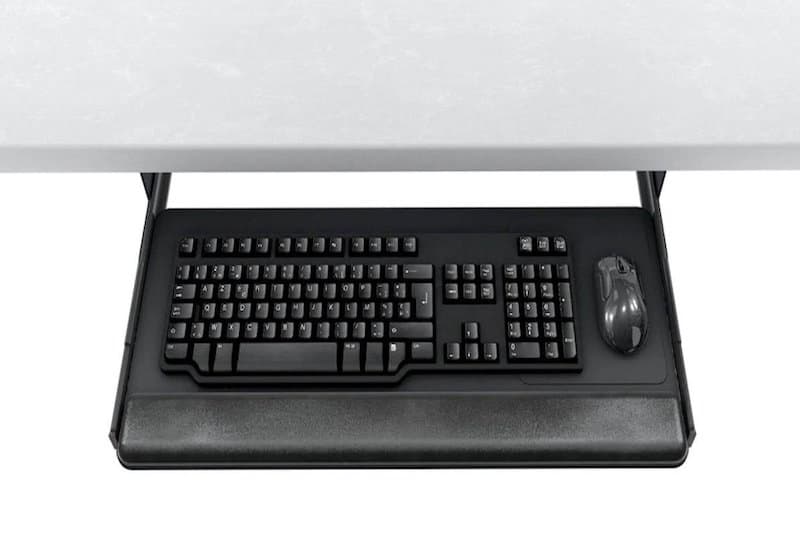 Pullout Keyboard Tray
Our pullout keyboard trays are perfect for those home offices that double as a guest room or craft room. Keep your keyboard tucked away and out of sight and free up valuable desktop real estate.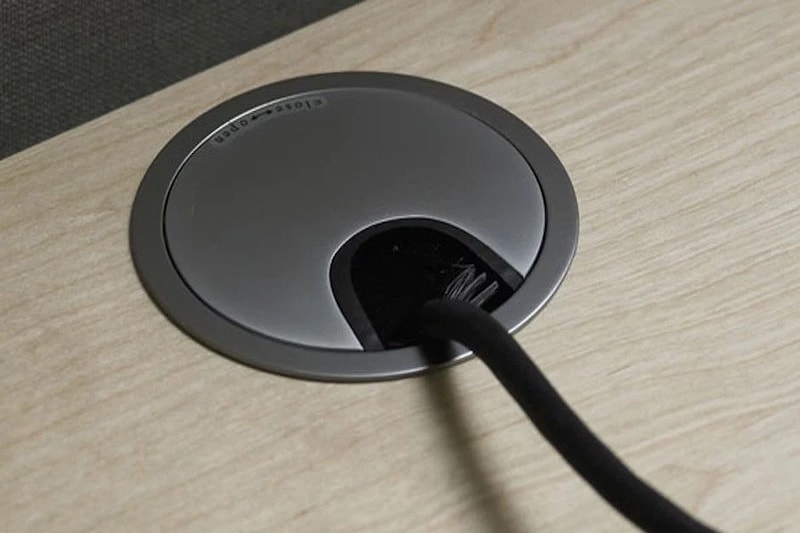 Chord Management Solutions
Nothing ruins the carefully crafted aesthetics of your custom home office design like unruly electrical cords. Let our expert designers help you hide those cords away and keep your beautiful home office looking neat and organized.
Choose the Space You Want to Customize & Transform. We'll do the Rest!
---
Enjoy quality craftsmanship, custom designed for your space, style, and budget. We'll design, manufacture, and install your project. We provide 3D video and photo renderings to help you visualize your project better. Thank you for supporting a local, family owned business!
SCHEDULE A FREE DESIGN CONSULTATION
---
Meet in the comfort of your home or in our Pearl District showroom!
GET STARTED TODAY