100% Custom Designed to Fit Your Space, Needs & Budget
Short Lead Times to Installation Compared to Other Providers
Best Overall Value & We Stand Behind It With Our Price Guarantee*
Professional Installation by Experienced Installers
Transform Your Garage Space with Custom Cabinets & Storage Solutions
---
Are you ready to get the most out of your garage with custom garage cabinets and garage storage solutions? If you're like most Northwest homeowners, your garage is more of a headache than your pride and joy. Whether you're looking for a way to tame the clutter or add square footage to your home, Portland Closet Company has custom garage organization ideas & solutions you'll love. Using materials and craftsmanship of the highest quality, we'll transform the garage you're hiding from your neighbors into a functional space that you'll feel proud of. Bike storage, sports equipment storage bins, gardening tool storage cabinets, and more are easy to do too!
Simple Custom Garage Cabinets
---
A budget friendly, simple yet modern way to better organize a garage with custom storage cabinets. Garage rails may be a challenge for some but with custom depths it is easy to workaround with our garage system. Maximize your storage space with a custom garage design.
• Dark modern storm gray finish to hide and conceal dirt and dust that garages attract.
• Two custom depths on the cabinets to maximize storage and take account for the garage door rails.
• Adjustable shelving to better accommodate items of different heights and sizes.
Wood Grain with Premium Handles Garage Storage Design
---
This luxury modern garage storage system is designed with a wood grain finish. While the design has a compact footprint it integrates a workbench area, slat wall for tool storage, and large drawers for hardware. Large, deep cabinet storage for everything from storage rubber bins to canning jars.
• Wood grain finish on slab door and drawer faces with premium extruded garage handles.
• Workbench with a long maple butcher block for those around the house projects.
• Drawers and doors for better tool storage and organization.
Bianco Garage Storage Cabinets with Slat Wall
---
This sleek white garage has a slight industrial look with its black accents. Moreover this custom garage design boasts a large workbench countertop area with a slat wall in the back for easy tool storage and organization. This wall-to-wall system offers adjustability to adapt to ever changing storage needs and makes use of the tall ceilings that a garage offers with upper cabinet storage.
• Upper storage cabinets for items that are accessed less frequently and large side cabinets for items that are used more frequently.
• Slab door and drawer fronts in a standard edge-banded white finish with black accent handles
• Black slat wall with tool hooks and accessories for better organization and storage.
Custom Garage Cabinets & Solutions Made to Fit Your Budget & Space
---
Custom Depths & Widths

Work Bench

Corner Cabinets

Finishes & Colors
Adjustable Shelving

Doors (many styles)

Drawers (many styles)

Hardware
Bicycle Racks & Tool Storage

Table & Desk Surface

LED Lighting

Laundry Station + Much More!
Don't Take Our Word, Hear What Clients Say About Our Custom Garage Cabinets

140+ Five-Star Reviews!
---

"Portland Closet Company designed and installed a whole storage layout for our two-car garage, giving us 3 1/2 bays of floor-to-ceiling shelving. The finished product is attractive, functional, and very durable. Installation crew was very professional."
Read Full Review

"We also had a vision for the garage that to maximize storage (and minimize house clutter) with custom garage cabinets and a work bench. The designer, Rose, was is an amazing listener and came up with designs that far exceeded our goals and expectations."
Read Full Review

"If there was such a thing as a 6 star review then Portland Closet Company would deserve it. Our designer, for garage cabinets and storage, was very pleasant to work with and I really appreciate it. Price was WAYYYY MORE AFFORDABLE"
Read Full Review

"We are very satisfied with how tidy and spacious our garage looks since we had our cabinets installed. I would recommend Portland Closet Company as they are fast, on time, and there was no mess to clean up when the job was done."
Read Full Review
Read More 5-Star Reviews on Our Custom Garage Storage
On Average, Our Custom Garage Cabinets Cost
Less Than Other Garage Storage Companies in Portland
Our clients, on average, save lots on their projects. We strive to offer the best overall value when it comes to price and quality for your custom reach-in or walk-in closet, murphy bed, home office, garage storage cabinets, custom pantry, or other project!
Locally, Family Owned and Operated for 35+ Years
One of the Most Experienced Garage Storage Providers in Oregon
Let's face it, finding a company that has real customer service is difficult especially with larger companies and franchises that have their bureaucracy. From its inception, Portland Closet Company has stood for doing the right thing for our clients, our employees and their families, our community and our environment. With over 15,000 clients and 35+ years in the business, we are experts in designing, manufacturing, and installing custom closets, home office setups, garage cabinet solutions, murphy wall beds, and custom storage organization. Our designers have years of experience and are ready and willing to help you design the perfect custom solution for your space.
How We Customize & Transform Your Garage With Cabinets & Slatwall in 4 Simple Steps
1. Schedule a Free Design Consultation
We connect you with one of our experienced, seasoned design consultants. They will assess your vision, space, style, needs & budget and collaborate on an awesome custom garage design.
2. Awesome 3D Video & Model Renderings
Your garage designer will create inspiring 3D digital renderings of your future space so that you can better your new custom space. Together, you'll revise the design until it's exactly what you want.
3. Custom Built Cabinets & Locally Manufactured
We custom build your garage storage system with the best materials in North America and Europe from the hardware to the finish. We locally cut and build your system in our shop in Portland, Oregon. Always local!
4. Professional Installation by Experienced Installers
We only hire experienced installers and they are always employees. Our professionals will install your custom organization system. Enjoy your new space with a worry free limited lifetime warranty.
Garage Makeover Design Ideas for Your Custom Garage Storage
---
Let's create your dream garage. Our garage storage solutions are fully customized to meet the specific needs of your lifestyle. Add warmth and style to your garage with custom finishes that complement the design of your home. With our garage organizer systems, you'll feel like you've just added a whole new room to your house!
Your garage is capable of so much more! Here are just a few of the possibilities:
Almost Limitless Design Options
---
At Portland Closet Company, our goal is to make your home your haven. We'll help make it happen with space-saving, custom garage organization solutions that make your life better. Are you looking to add living space and floor space, or organizing your power tools and cleaning supplies? Maximize the needs of your growing family? Maybe you're ready to park the car inside the garage for once? Tired of the clutter and ready to organize your life so you can get out there and live it? Here are just a few of the options: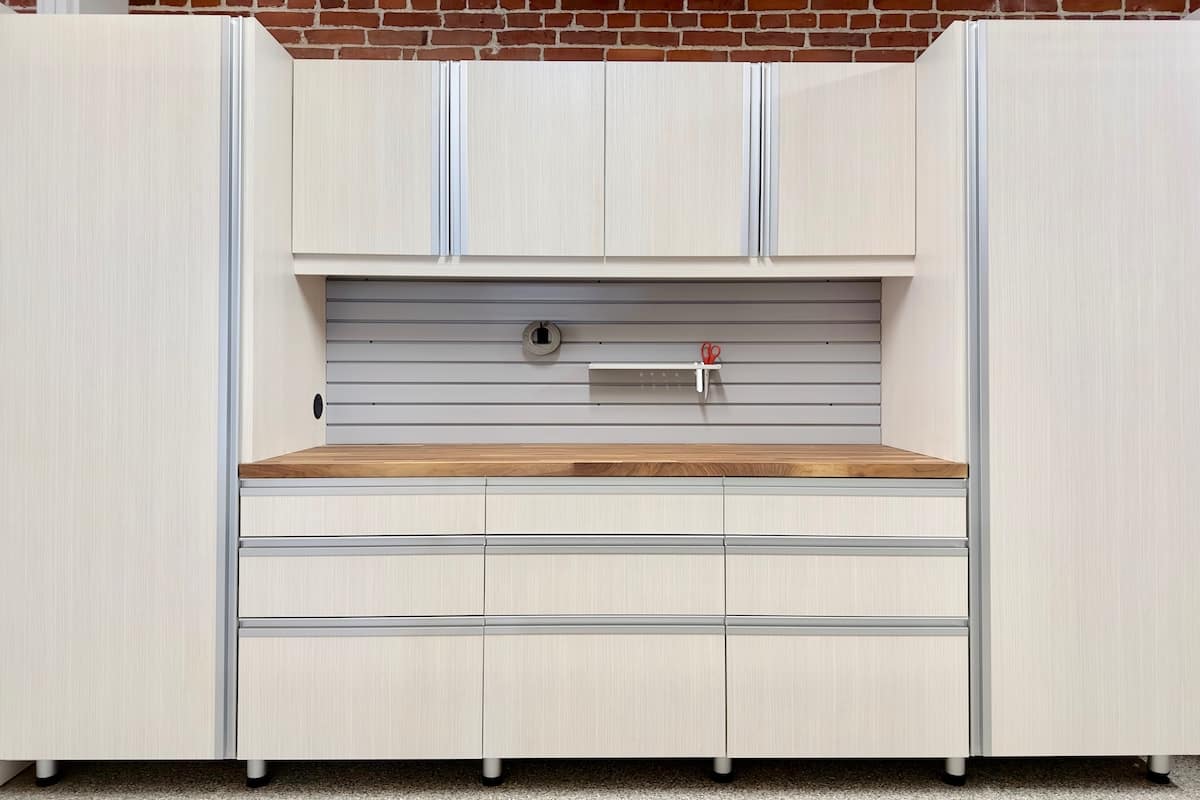 Custom Cabinets
Make room for the things that matter with the installation of a custom garage cabinets. Whether you are looking for full height, corner, upper, or lower cabinets, we can design and make it for you.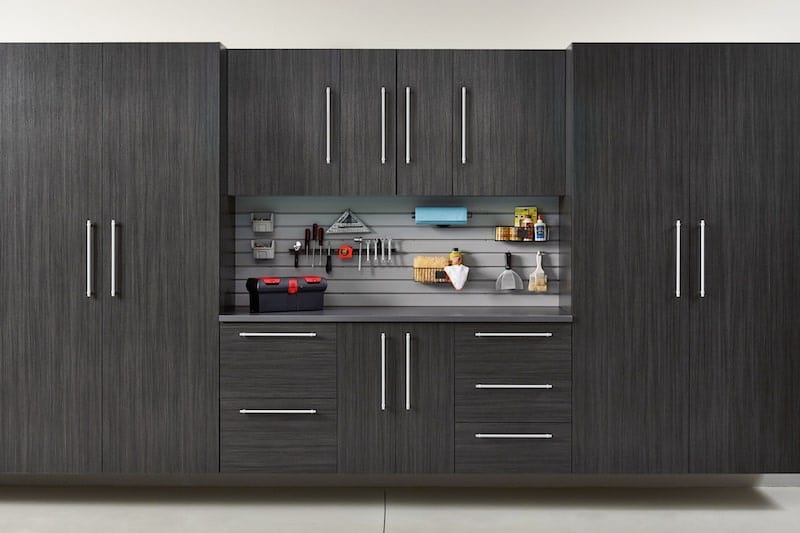 Doors & Drawers
Our custom garage storage can be open shelving or has the option for doors and drawers depending on your space, needs, and budget. We have different door, drawer, and finish styles to fit your garage style.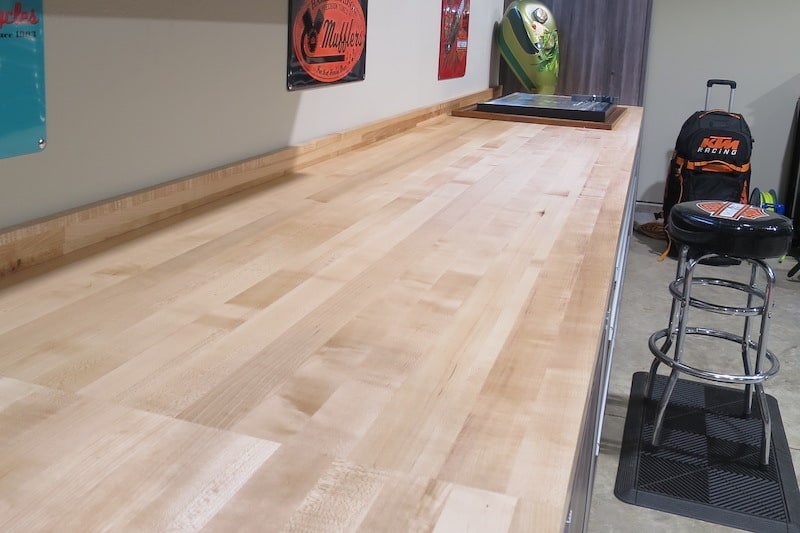 Workbench
A work surface is often increases the marketability of your home. Many clients opt for a workbench with their custom garage storage. This allows them to use tools and a place to work.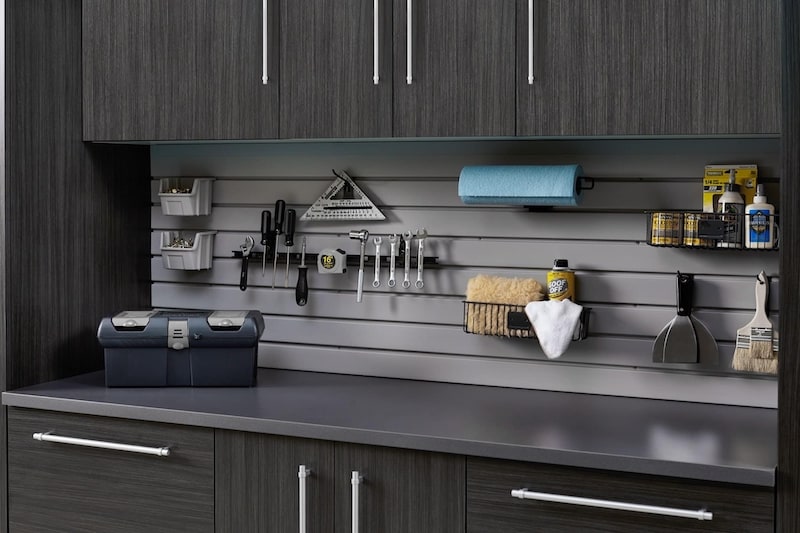 Tool Organization
A way and place for organizing your power tools and cleaning supplies helps reduce the clutter in a garage. We offer several great tool organizers. These can be hung on a slatwall or omnitrack.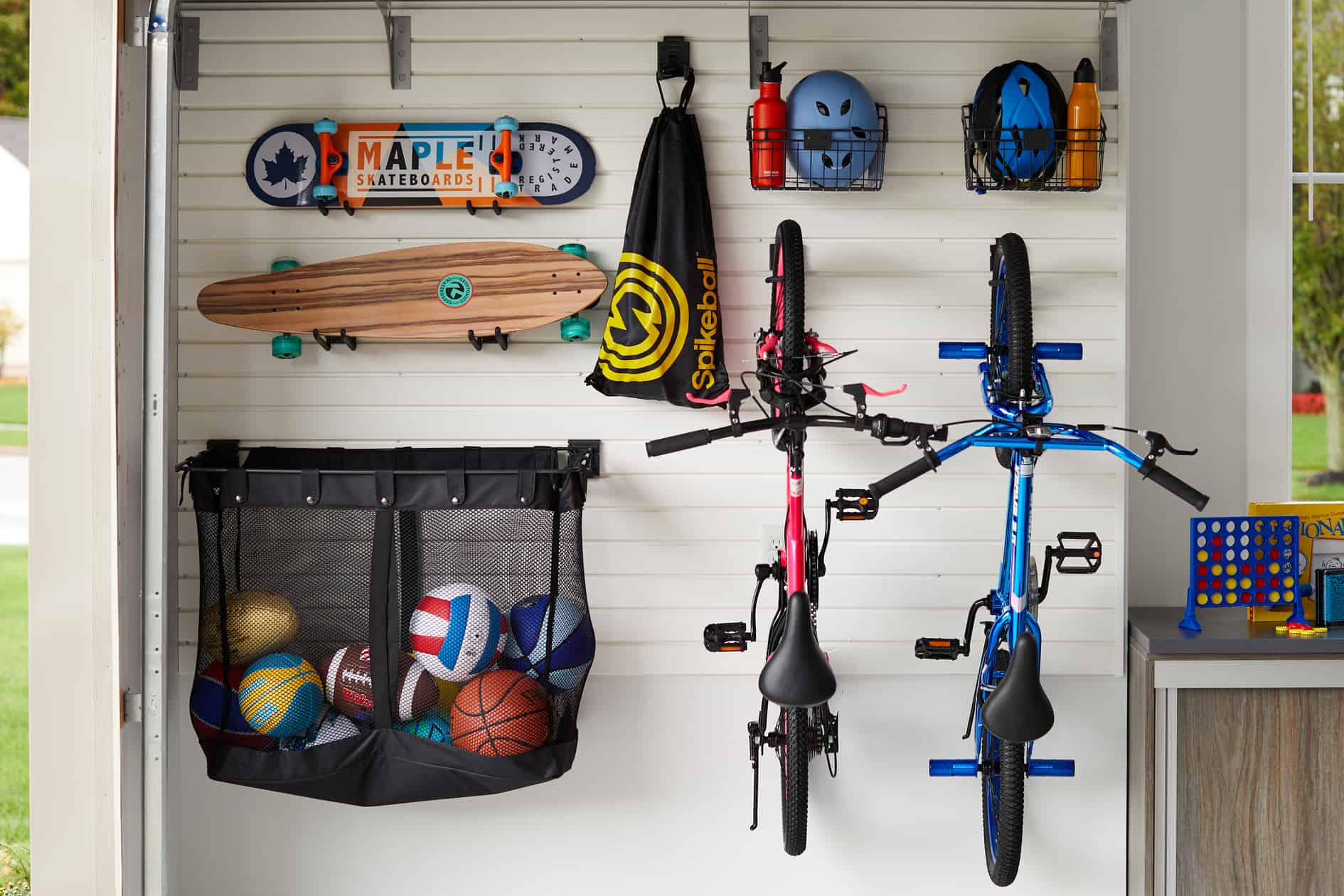 Bike Rack & Storage
Bike storage is often difficult in a garage and takes up a lot of valuable space. We can either provide bike racks or hang your bikes from a slatwall with bicycle hooks. We have varying sizes to fit your bike.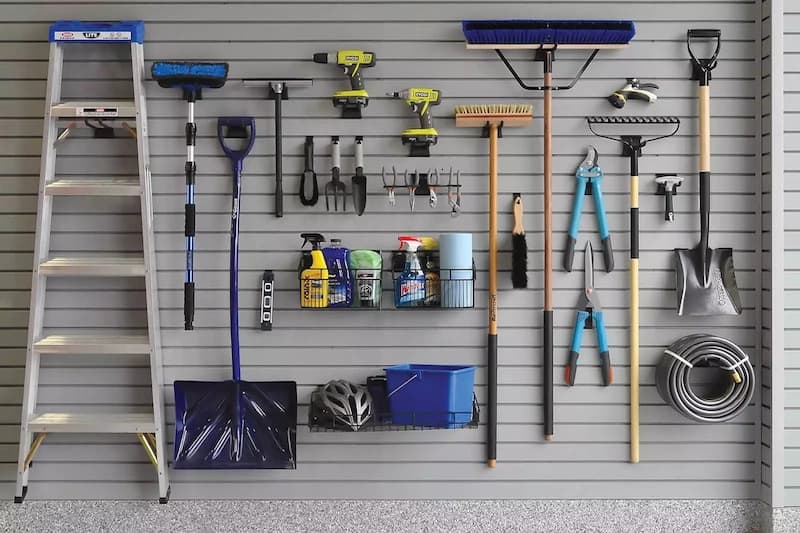 Slatwall
Slatwall panels are ideal for garage storage organization. They provide a finished look for your garage while at the same time very versatile and can store organize tools, cleaning supplies, & sporting equipment.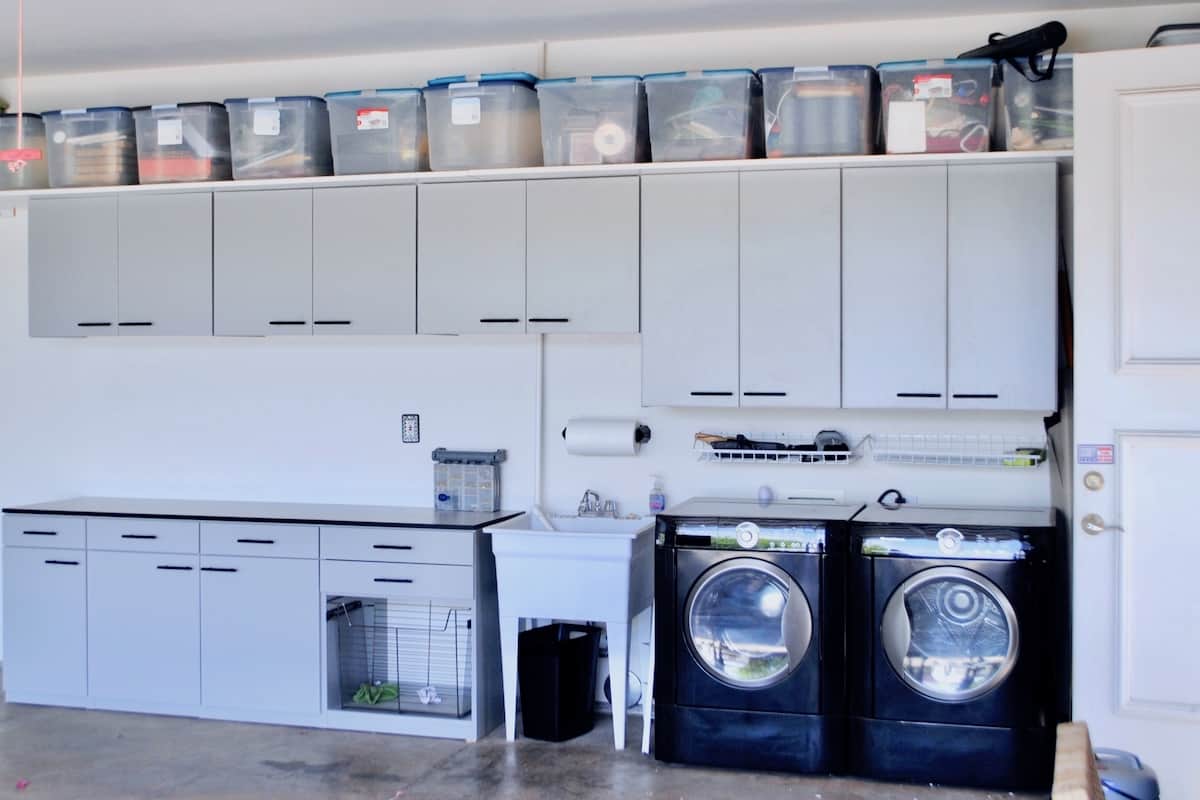 Laundry Station
Many washer and dryers hookups are placed in the garage, especially in older houses. We can create a laundry room station built around custom garage cabinets for a clean, modern look that provides functionality.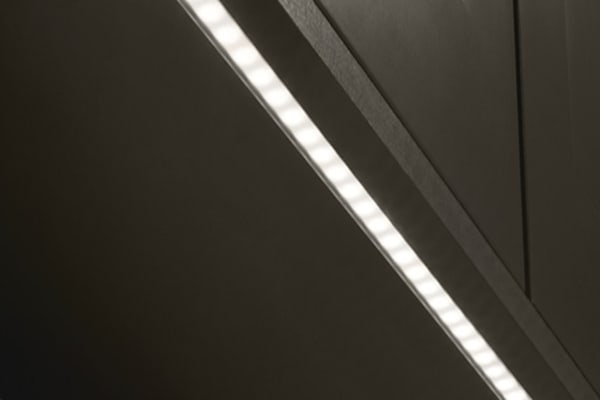 LED Lighting
Add energy efficient lighting right where you need it with many light switch mechanisms from touch to a click. We have a variety of lighting options for your custom garage from puck lights to light strips.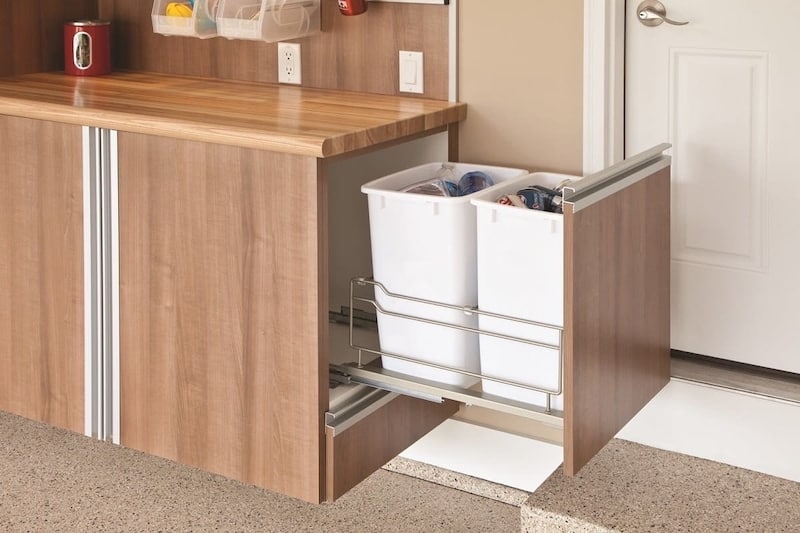 Recycling & Garbage Bins
We can add pull out recycling and garbage bins in your garage makeover to hide some of the clutter. It is simple and clean way to organize your garage. Optimal solutions for your custom garage.
Choose the Space You Want to Customize & Transform. We'll do the Rest!
---
Enjoy quality craftsmanship, custom designed for your space, style, and budget. We'll design, manufacture, and install your project. We provide 3D video and photo renderings to help you visualize your project better. Thank you for supporting a local, family owned business!
SCHEDULE A FREE DESIGN CONSULTATION
---
Meet in the comfort of your home or in our Pearl District showroom!
GET STARTED TODAY