100% Custom Designed to Fit Your Space, Needs & Budget
Short Lead Times to Installation Compared to Other Providers
Best Overall Value & We Stand Behind It With Our Price Guarantee*
Professional Installation by Experienced Installers
Transform Your Pantry with Our Custom Storage & Organization Solutions
---
Bring order to your kitchen pantry storage with a custom-designed pantry organization system. An organized pantry will help to keep clutter off of your counters and provide a home for all cooking supplies, making them easy to find when needed. You'll save money, be inspired to cook more, and keep your valuable foodstuffs cleaner and more accessible. Here our some of the most sought out features for a custom pantry:
Corner Shelves
Custom corners maximize every inch of your kitchen pantry space.
Pull-Out Drawers
Keep any item within reach with pull-out drawers of various sizes.
Tray & Pan Storage
Vertical dividers take advantage of thin sheets, pans, and platters.
Simple and Practical Custom Pantry Design
---
Here at Portland Closet Company we don't sacrifice valuable storage space. Corner shelves help to maximize the utility of your custom pantry design. The adjustable shelving is perfect for whatever needs you may have now or in the future. The crisp white finish helps it feel more open, even in the smallest of pantries.
• Pull out baskets are perfect for storing fruits, vegetables, or soft items like bread or potato chips.
• Vertical storage is perfect for sheet pans, cutting boards, or serving trays.
• Brushed nickel drawer pulls and baskets compliment the modern white finish.
Custom Pantry with Light Gray and Woodgrain Accent Tones
---
Use a mixture of finishes to showcase your unique aesthetics. This custom pantry design pairs a medium gray finish with a bold wood grain to keep the design feeling new and unique. Frosted glass, shaker style doors on the upper cabinets are perfect for keeping your dishes tucked away.
• Curved corner shelving maximizes storage space, and are perfect for plates, bowls, and glasses.
• Clean lines and brushed nickel bar pulls on the doors and drawers help to accent the unique wood grain finish.
• Adjustable shelves helps to make this custom pantry useful now and in the future, whatever you need to store on these shelves or in these cabinets.
White Custom Pantry with Pull Out Drawers, Wire Baskets, and More
---
A must have in any kitchen, a well organized pantry is vital to keeping your home running smoothly. With plenty of storage space and adjustable shelving, this pantry design is built with the whole family in mind. Pullout storage shelves make reaching things in the back a breeze.
• A clean, white finish makes this space feel open and modern without losing the sense of home.
• Drawers, doors, curved corner shelves, and pull out shelving make this pantry a storage paradise.
• The butcher block countertop is the perfect place to prepare ingredients for dinner or set your groceries while you put them away.
Walk-in Custom Pantry with Countertops and Cabinets
---
Bright and modern, this custom pantry design will help to showcase your style. The gray wood grain on beaded shaker style doors and drawer faces makes a classic style feel new. Paired with the stark white shelving and brushed nickel hardware, this pantry is sure to impress every time you walk in.
• Dark stone countertops add to the modern sensibilities of this pantry, and pair well with the muted colors in the wood grain and the shelves.
• Sturdy shelving is perfect for storing food or dishes.
• Pullout wire baskets and shelves make storing food and dishes easier than ever. Never lose anything in the back of the shelf ever again.
Fully Customizable Pantry Designed to Fit Your Budget & Space
---
Custom Depths & Widths

Corner Units

Pull Out Trays & Wire Baskets

Finishes & Colors
Adjustable Shelving

Doors (many styles)

Drawers (many styles)

Floor Based or Floating Systems
Vertical Sheet Pan Dividers

Custom Table Surface

LED Lighting

Much More!
Don't Take Our Word, Hear What Clients Say About Our Custom Pantry

140+ Five-Star Reviews!
---

"Alex designed our master bedroom walk-in closet, laundry room storage, and pantry. Very pleased with the outcome. The installation crew was awesome. Everything was high quality, functional, and visually appealing. Highly recommend Alex and this company."
Kitchen Pantry Review

"We purchased a wall bed with built in desk and they designed and installed custom shelving and countertop in our kitchen pantry - we could not be more pleased with the quality, performance, and design/look of these items. We will be referring our friends to them."
Read Custom Pantry Review

"Great designers (ours was Jason) very good about making suggestions and sharing why things are designed a certain way. Installation team was prompt, courteous and really efficient. Everything looks great and is more efficient."
Pantry System Review

"This time we needed selves for our pantry and the design for our master bedroom clothes closet. Both turned out just as planned. We love the quality of the product, and the workmen did a great job. We really appreciated what Portland Closet did with the space we had."
Pantry Storage Review
Read More 5-Star Reviews on Our Custom Pantry Jobs
On Average, Our Pantry Storage Services Cost
Less Than Other Kitchen Pantry Companies in Portland
Our clients, on average, save over lots on their projects. We strive to offer the best overall value when it comes to price and quality for your custom reach-in or walk-in closet, murphy bed, home office, garage storage cabinets, custom pantry, or other project!
Locally, Family Owned and Operated for 35+ Years
One of the Most Experienced Custom Kitchen Pantry Providers in Oregon
Let's face it, finding a company that has real customer service is difficult especially with larger companies and franchises that have their bureaucracy. From its inception, Portland Closet Company has stood for doing the right thing for our clients, our employees and their families, our community and our environment. With over 15,000 clients and 35+ years in the business, we are experts in designing, manufacturing, and installing custom closets, home office setups, garage cabinet solutions, murphy wall beds, and custom storage organization. Our designers have years of experience and are ready and willing to help you design the perfect custom solution for your space.
How We Customize & Transform Your Kitchen Panty With a Custom System in 4 Simple Steps
1. Schedule a Free Design Consultation
We connect you with one of our experienced, seasoned design consultants. They will assess your vision, space, style, needs & budget and collaborate on an awesome custom pantry design.
2. Awesome 3D Video & Model Renderings
Your kitchen pantry designer will create inspiring 3D digital renderings of your future space so that you can better your new custom space. Together, you'll revise the design until it's exactly what you want.
3. Custom Built Kitchen Pantry & Locally Manufactured
We custom build your pantry system with the best materials in North America and Europe from the hardware to the finish. We locally cut and build your system in our shop in Portland, Oregon. Always local!
4. Professional Installation by Experienced Installers
We only hire experienced installers and they are always employees. Our professionals will install your custom system. Enjoy your new space with a worry free limited lifetime warranty.
Kitchen Pantry Design Ideas for Your Custom Space
---
Maximizing pantry storage space can be a balancing act, let us help with a customer design. Not only will you be able to store dry goods, boxes, and cans. But, we can also build storage for appliances, bakeware, and even wine. Put in a countertop for kitchen prep, or energy efficient lighting to help you see all that you have. We can help you design the pantry of your dreams.
Almost Limitless Design Options
---
Our pantry storage and systems are customized to match your lifestyle and individual needs, with full installation. There are no limits to what we can do for you. Here are just a few of the options: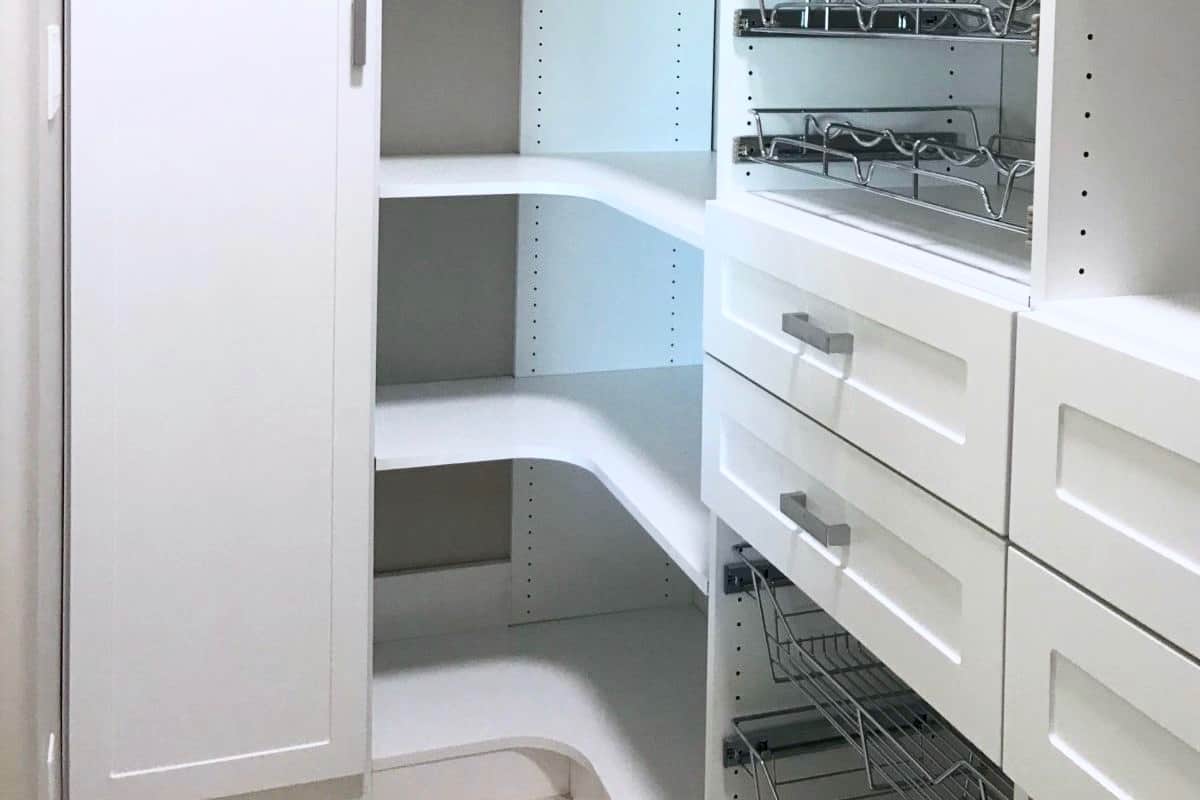 Corner Shelves
Maximize the space and leave no corner unused! Rounded corner shelves provide a great space to store larger items, such as appliances or food storage bins while giving you access to all of the space your pantry has to offer.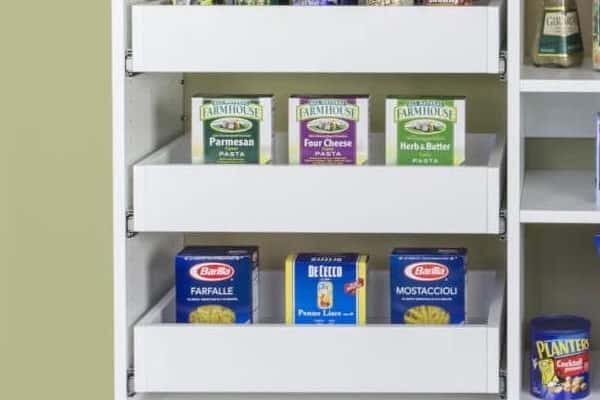 Pull Out Trays & Drawers
Save your precious counter space with these pullout appliance drawers. Reinforced to withstand the weight of most home appliances, these handy pullout drawers will keep your counters clear but make accessing your essential appliances easy.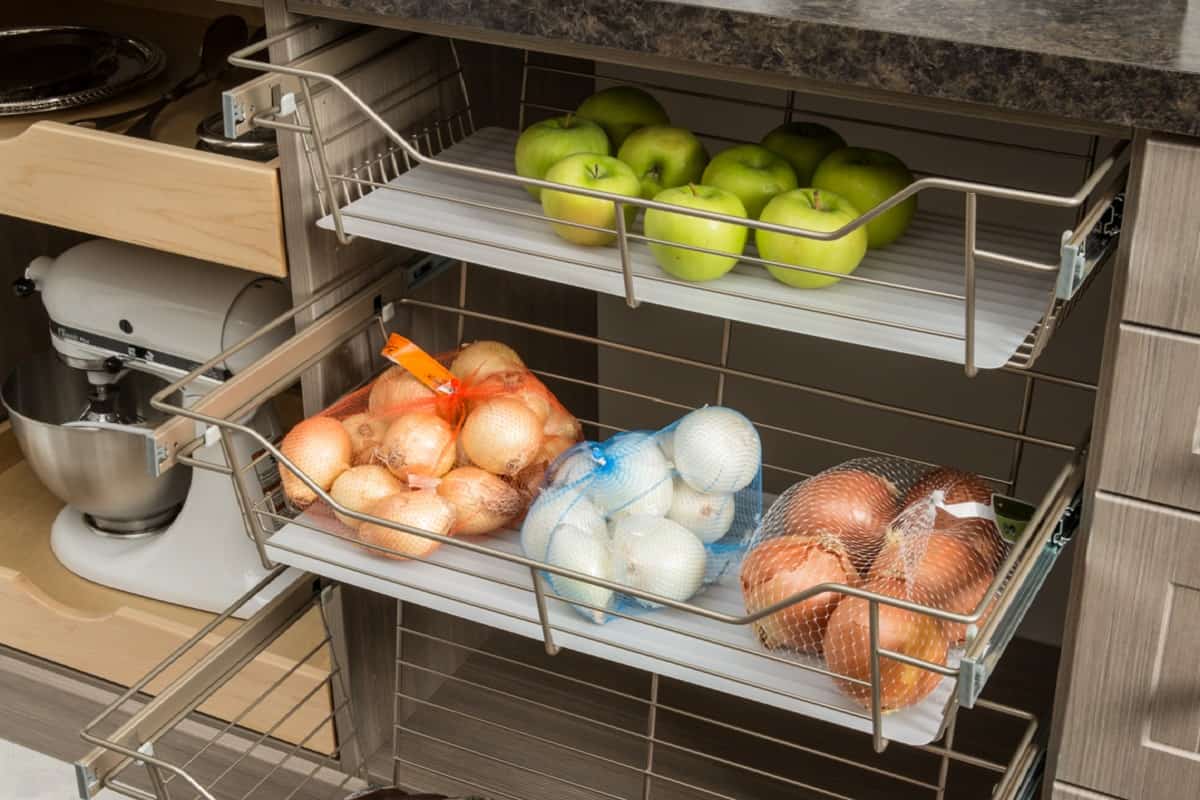 Pull Out Wire Baskets
No need to worry about your more delicate pantry items being crushed in a cabinet. Pullout wire baskets provide an excellent storage solution for bread, chips, rice, and more. Or store your kitchen linens in them for easy access and visibility. The options are endless.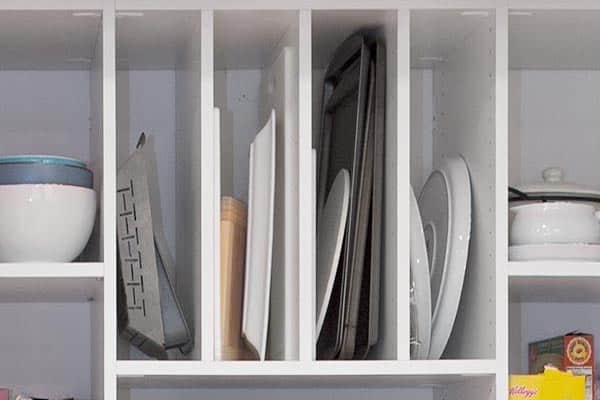 Sheet Pan Storage
Our vertical sheet pan storage is excellent for making sure you have easy access to your ovenware, whenever you need it. A neat and tidy way to free up some space in the kitchen!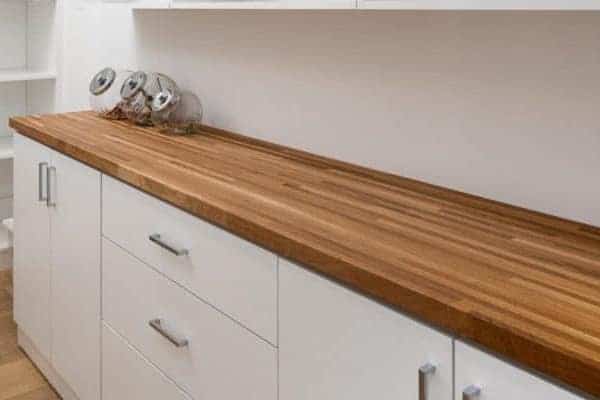 Surface & Countertops
Stone, laminate, formica, or wood, the options for countertops are boundless. Add some extra counter space or provide yourself a place to prepare ingredients before moving them to the kitchen. It will be seamless and functional.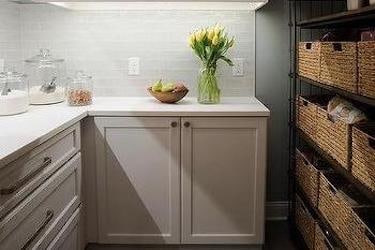 LED Lighting
Overhead lighting in the pantry is great, but what if you could have lighting above every shelf? With our energy efficient LED lighting options, we can help design a pantry that you not only love to look at, but can actually see!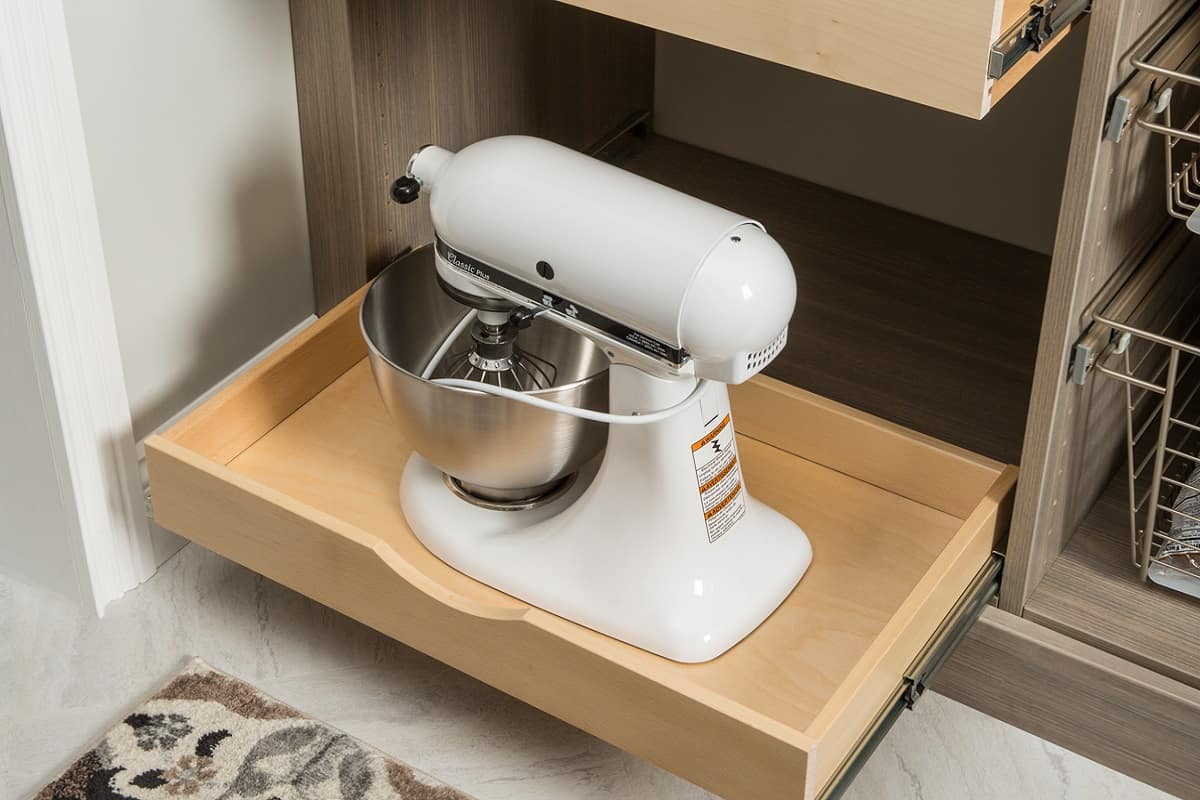 Pull Out Appliance Drawer
Overhead lighting in the pantry is great, but what if you could have lighting above every shelf? With our energy efficient LED lighting options, we can help design a pantry that you not only love to look at, but can actually see!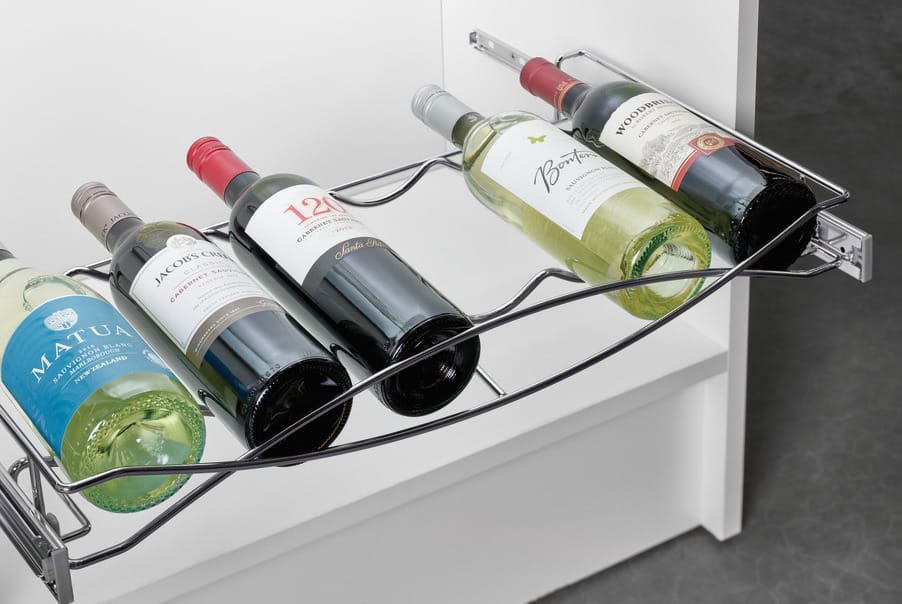 Pull Out Wine Storage
A convenient storage solution designed specifically for wine bottles. The pull-out system is designed to securely hold them, with individual slots or compartments to accommodate various bottle sizes. A wine pull-out storage system is a convenient and practical solution for any wine enthusiast.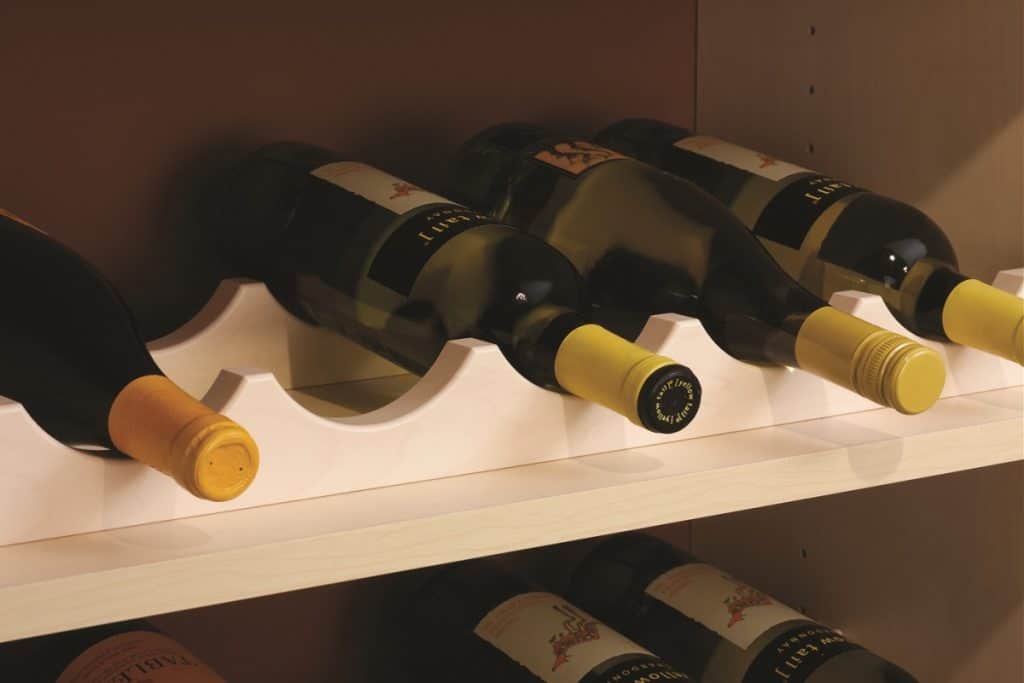 Wine Storage on Shelf
If you don't need the pull-out system or you want a smaller option for storage, a stationary shelf may be just the right fit. Designed to hold the bottles and keep them separated, the stationary wine storage system is perfect for the casual wine drinker.
Choose the Space You Want to Customize & Transform. We'll do the Rest!
---
Enjoy quality craftsmanship, custom designed for your space, style, and budget. We'll design, manufacture, and install your project. We provide 3D video and photo renderings to help you visualize your project better. Thank you for supporting a local, family owned business!
SCHEDULE A FREE DESIGN CONSULTATION
---
Meet in the comfort of your home or in our Pearl District showroom!
GET STARTED TODAY