100% Custom Designed to Fit Your Space, Needs & Budget
Short Lead Times to Installation Compared to Other Providers
Best Overall Value & We Stand Behind It With Our Price Guarantee*
Professional Installation by Experienced Installers
It's Time to Transform & Upgrade Your Walk-In with Our Closet Systems, Storage & Organizers
---
A walk-in closet ranks as one of the top features to many homeowners these days and a key factor in a prospective homebuyers decision. These closet areas have evolved from standard closet organizers into personalized spaces that go beyond just a place to keep clothing. Men and women both want these customized closets to be as aesthetically designed and inspiring as the rest of home. The master bedroom's primary walk in closet makes a distinct style statement about your master bedroom. It is an extension of the most valuable bedroom in the house. Here our a few walk in closet designs for inspiration on your dream closet.
See Walk-in Closet Design Ideas & Inspiration
Walk-in Closet Dressing Room
---
A classic walk-in closet that is both sleek and swanky. This custom design features ample hanging space, adjustable shelving for both clothes and shoes. The beautiful island in the center provides more storage with soft-close drawers on the sides and a bench with a large storage drawer on the end.
• A dark wood grain finish lends an air of sophistication to this closet and compliments the light wood of the flooring.
• Brushed nickel handles and hanging rods provide a uniform look across the entire closet.
• Natural stone countertop on the island to elevate this closet to even higher levels.
• A floor-based closet makes this custom designed system look truly built in.
Walk-in Closet with Wood Grain
---
Light and airy, this walk-in closet makes the most of natural light. A light wood grain makes the closet feel open without sacrificing an elegant aesthetic. With both long and short hanging sections, this simple yet chic closet design has storage for all your essentials.
• A light wood grain balances well with the dark hardware.
• The window is incorporated into the design and the space below is utilized with a series of drawers and storage cabinets.
• Natural stone countertop on the island to elevate this closet to even higher levels.
• Shelves for shoes, purses, folded clothes, and more along with drawers and cabinets provide enough storage space for anything you might need.
Simple Modern White Walk-in Closet
---
Light and airy, this walk-in closet makes the most of natural light. A light wood grain makes the closet feel open without sacrificing an elegant aesthetic. With both long and short hanging sections, this simple yet chic closet design has storage for all your essentials.
• Raised panels on the drawers add texture to the custom closet design.
• Satin nickel arch pulls provide a clean and modern feel.
• A simple vanity creates a unique design, without costing an arm and a leg.
• A custom stone countertop with extended backsplash to provide a beautiful accent.
Walk-in Closet White Wood Grain
---
A simple yet elegant walk-in closet that maximizes this custom closet space. It offers a variety of hanging variations from short to long hanging clothes. Plenty of shoe storage that are versatile adjustable shelving. The center-piece not only adds a focal point to this closet design but also increases the aesthetics while being practical and functional.
• White wood grain finish with accent eased edge drawer and door faces to make this closet system budget friendly yet stand out.
• LED closet lighting to provide extra light in those hard to see spots that finish out your overall custom closet design.
• A mix of adjustable shelving for all shoe storage & folded clothes like pants.
• Center island display with a landing space for jewelry and other accessory items.
Luxury Walk-in Closet with Island & Glass Displays
---
This striking custom closet design pairs the bright, clean white finish and glass doors with the stark industrial flooring. A modern, clean and elegant style. This walk-in closet proudly displays ones clothes with glass doors.
• Fully enclosed glass display areas with LED lighting for your extravagant clothing, purses and other showcase items.
• Marble countertops to raise the profile of the entire closet system.
• Upper storage to maximize storage for those high ceiling closets finished off with a crown mold.
• Shoe fences on angled shoe shelves to better organize your shoes.
Fully Customizable Walk In Closet Designed to Fit Your Budget & Space
---
Custom Specifications

Corner Units

Shoe Storage

Finishes & Colors
Adjustable Shelving

Doors & Drawers (many styles)

Jewelry Tray Organizers

Floor Based or Floating Systems
Many Hamper Options

Island or Peninsula

LED Lighting

Many Accessories + More!
Don't Take Our Word, Hear What Clients Say About Our Walk In Closet Systems

140+ Five-Star Reviews!
---

"I had a wonderful experience working with PCC. Rose was the designer I worked with, and she designed a perfect custom walk-in closet solution. I am very happy with the end quality and result. I'll definitely be back for our next project!"
Custom Walk In Closet Review

"The result is a functional and very attractive walk-in closet. I also looked at the chain stores (California Closet) and found that Portland Closet Company's prices were much better, and most important is that the quality of the product far surpasses those other stores."
Walk-in Closet Systems Review

"We remodeled our home and added a walk-in closet. We chose Portland Closet because we had heard good things about their work. We really appreciated what Portland Closet did with the space we had. The design was great, and the workmen were on time and cleaned up after themselves. We highly recommend Portland Closet for their willingness to work within our budget."
Walk In Closet Organizer Review

"I highly recommend Portland Closet Company. Our designer, Rose, was fantastic to work with. The quality of our closet is top notch and you can't beat the price. The entire process, from design to installation, was a breeze. We did a lot of research before selecting Portland Closet Company (considered the two large national closet companies) and it was a no brainer.
Large Walk In Closet Review
Read More 5-Star Reviews on Our Walk In Closet Projects
On Average, Our Walk-in Closet Systems Cost
Less Than Other Walk In Organizer Companies in Portland
Our clients, on average, save over lots of money on their projects. We strive to offer the best overall value when it comes to price and quality for your custom reach-in or walk-in closet, murphy bed, home office, garage storage cabinets, custom pantry, or other project!
Locally, Family Owned and Operated for 35+ Years
One of the Most Experienced Custom Walk-In Closet Providers in Oregon
Let's face it, finding a company that has real customer service is difficult especially with larger companies and franchises that have their bureaucracy. From its inception, Portland Closet Company has stood for doing the right thing for our clients, our employees and their families, our community and our environment. With over 15,000 clients and 35+ years in the business, we are experts in designing, manufacturing, and installing custom closets, home office setups, garage cabinet solutions, murphy wall beds, and custom storage organization. Our designers have years of experience and are ready and willing to help you design the perfect custom solution for your space.
How We Transform Your Walk In With a Custom Closet Design in 4 Simple Steps
1. Schedule a Free Walk-in Closet Design Consultation
We connect you with one of our experienced, seasoned design consultants. They will assess your vision, space, style, needs & budget and collaborate on an awesome walk in closet design.
2. Awesome 3D Video & Model Renderings of Your Walk-in
Your walk-in designer will create inspiring 3D digital renderings of your future space so that you can better your new custom space. Together, you'll revise the design until it's exactly what you want.
3. Custom Built Walk-in System & Locally Manufactured
We custom build your walk-in closet with the best materials in North America and Europe from the hardware to the finish. We locally cut and build your system in our shop in Portland, Oregon. Always local!
4. Professional Installation by Experienced Installers
We only hire experienced installers and they are always employees. Our professionals will install your custom system. Enjoy your new space with a worry free limited lifetime warranty.
Walk-in Closet Design Ideas for Your New Space
---
In the past, the walk-in closets were built to be more practical and defined as a closet that one could walk into and store their clothes with just a rod for hanging space and a few fixed shelves. More often than not, the closet space is the last item a homebuilder thinks about and sometimes not even until after the home is complete. It is typically an afterthought and done in the cheapest way possible. This is why there are so many dysfunctional walk-in closets and the need for a custom closet organizer.
Ideally, these closets are rectangular or square; however, these spaces can come in all shapes and sizes including curved and octagons. The size of a walk-in closet varies greatly. Today, closets can be as large as a secondary bedroom while others are barely big enough to qualify as a walk-in. Due to more and more homeowners wanting walk-ins, they are no longer reserved for the master bedroom and are frequently seen in secondary bedrooms and guest rooms.
Why Choose Portland Closet Company for Your Walk-in Design?
---
Planning is Free, No Obligation

Price Match*

5-Star Service

Best Value for Your Money
Unsurpassed Warranty

15,000+ customers

Floating Closet Systems

Floor Based Closet Systems
Trusted Since 1985

Locally Operated

Family & Locally Owned

Independent + Much More!
Almost Limitless Design Options
---
The most popular addition to these spaces is a built-in custom closet organizer system which has been carefully and professionally designed to store & display clothing and accessories, maximize the storage space of the closet, and work with the flow of how one will use their closet. Furthermore, the closet will be constructed in a way that is easy to adjust as your life changes overtime. A well-designed custom closet system can allow the most efficient and effective use of the entire walk-in closet and potentially double the amount of space that was previously available. Here are just a few of the options: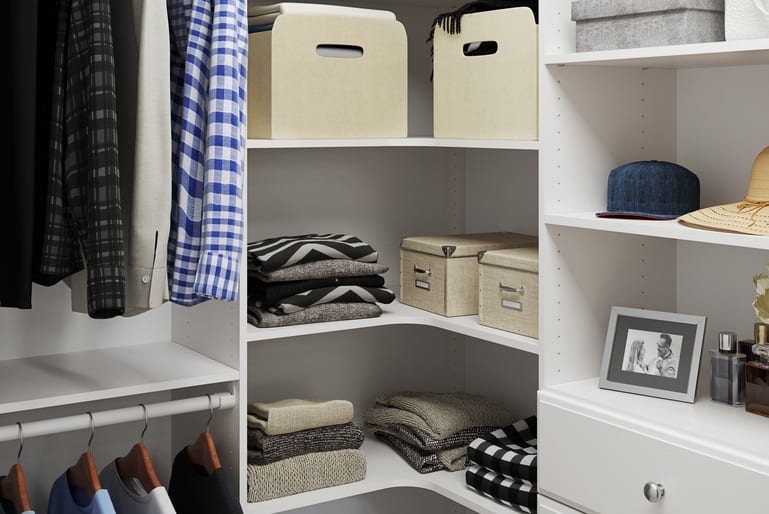 Corner Shelves
We make sure to get the most out of your space. Our rounded corner shelves provide excellent storage options for purses, shoes, or even folded clothes. Keep them adjustable or make them fixed. You'll get the most out of your space with no more dead corners.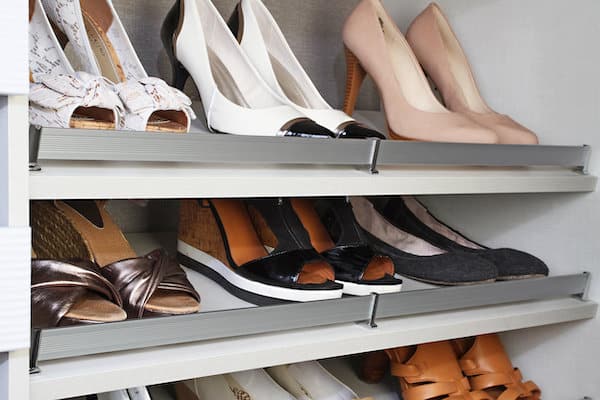 Shoe Racks & Storage
Organizing your shoes has never been easier. Go with flat or slanted shoe shelves, to add some extra flair to your closet. With the adjustable shelves, even your tallest boots or flattest flats will have a space here.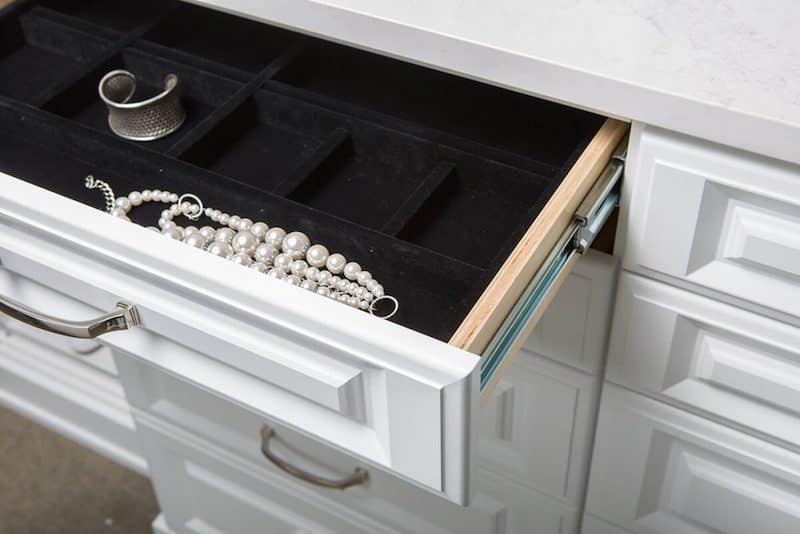 Jewelry Organizers
Our felt-lined, multi-compartment jewelry trays are perfect for organizing your necklaces, bracelets, or rings. We don't just help you keep your jewelry organized, we can also help keep it safe with locking jewelry drawers.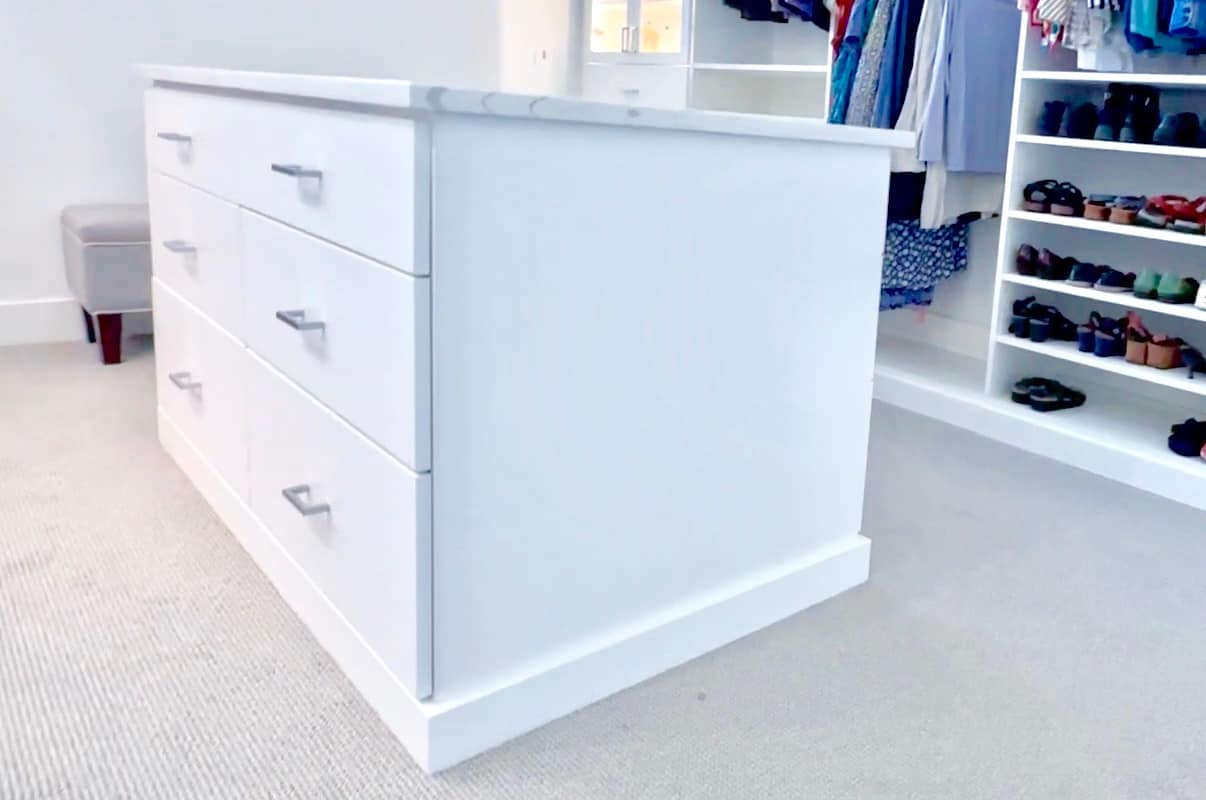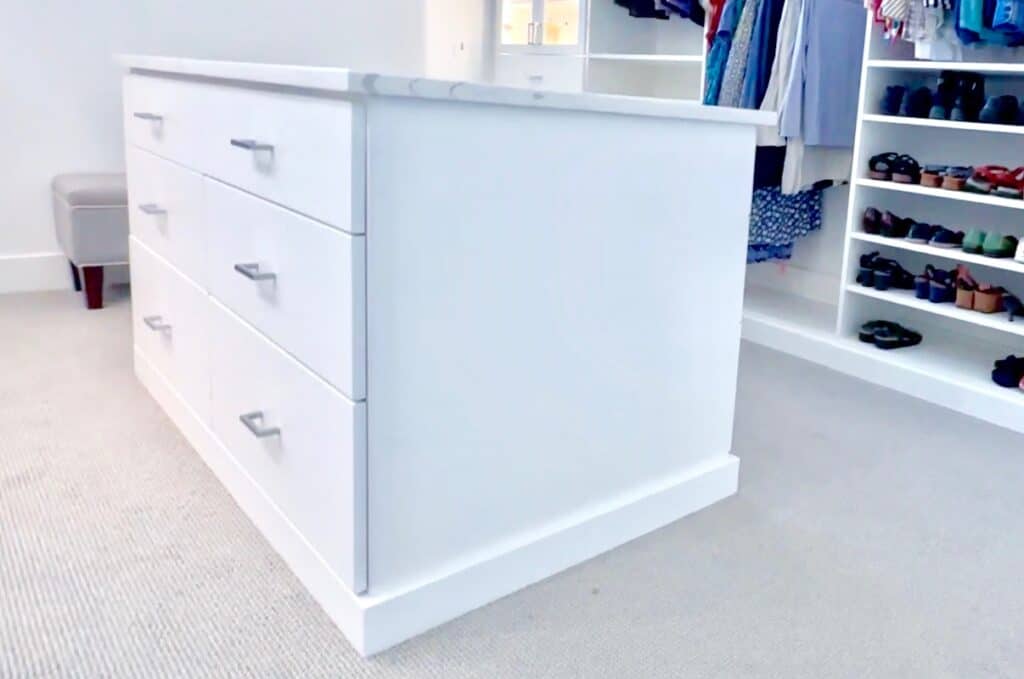 Island or Peninsula
Have some space in the middle of your walk-in and don't know what to do with it? Ask your designer about an island or peninsula. With endless choices for countertops and configurations, your island or peninsula will be a great addition to your custom walk-in closet design.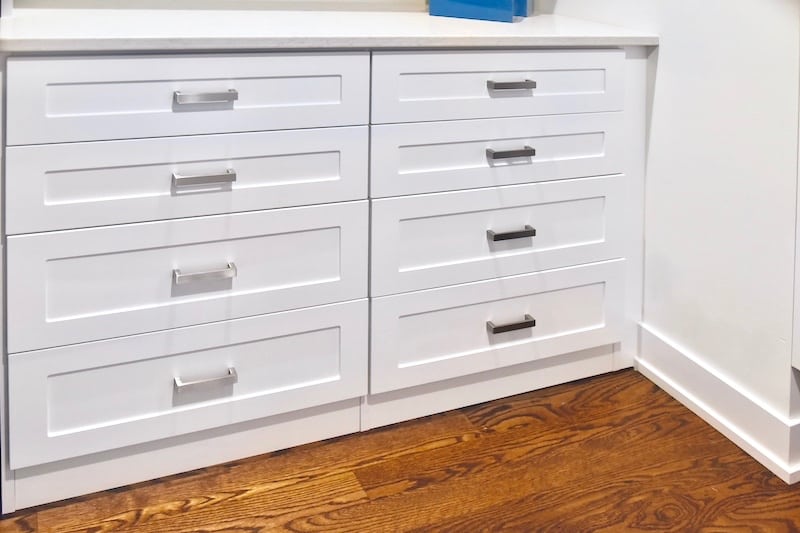 Drawers
Time to throw out that old chest of drawers and let us design and install a custom drawer bank that will integrate seamlessly into your walk-in design. Whether they're deep drawers for storage or shallow for everyday items, we'll work with you to figure out exactly what you need.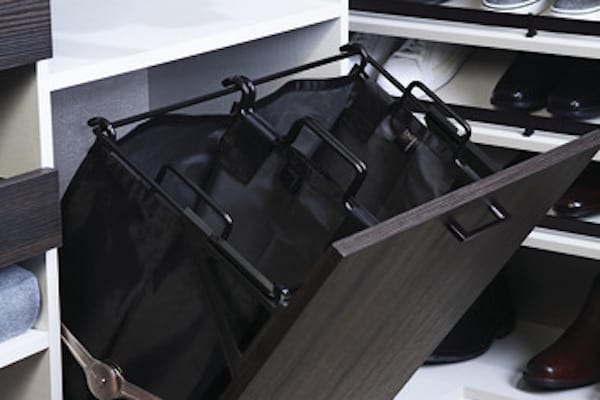 Hampers
Keep your dirty clothes and bedding tucked away in a pull-out or tilt-out hamper. With options to choose from, your closet will stay neat and tidy while also looking great. No more random hampers that awkwardly sit on the floor of your closet. It can be fully integrated with our system.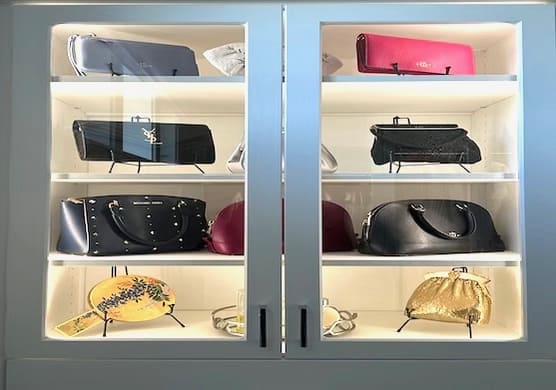 Closet Display Cases
Make your purses, shoes, or whatever you can think of the focal point of your closet with a custom glass door display cabinet. Add some of our energy efficient LED lighting to really make your items pop.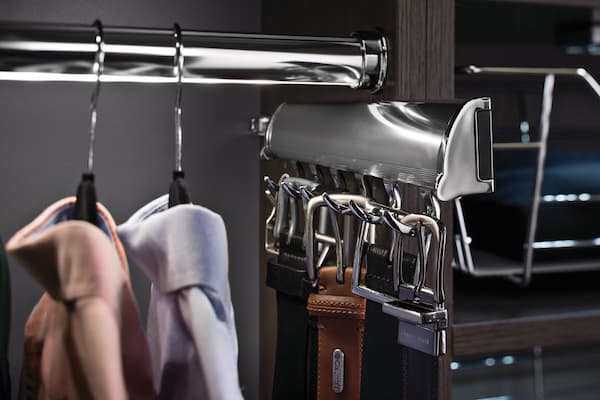 Belt & Tie Racks
Keep your belts and ties visible and organized with sliding belt and tie racks. Save space while adding functionality to your custom closet. A must have accessory for any walk-in closet.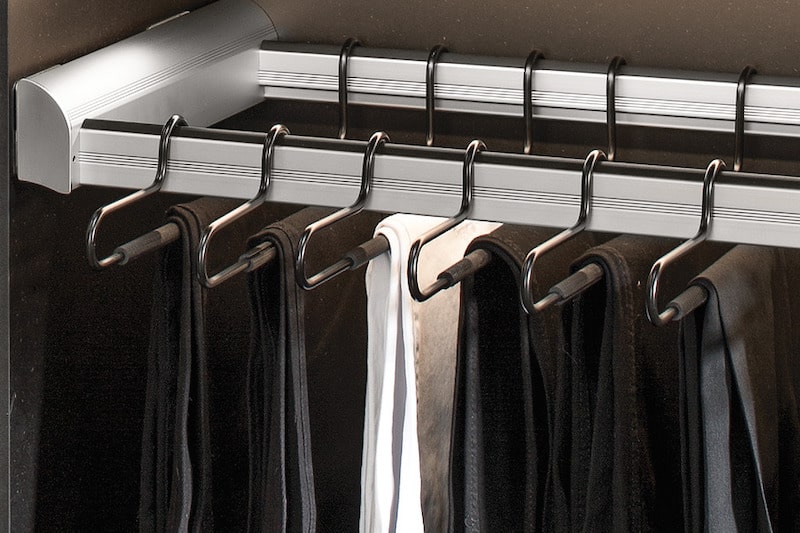 Pants Organizer
Our sliding pants organizer keeps all of your trousers in a dedicated space with specialty hangers on a sliding rack. Make sure you're keeping those slacks from getting wrinkled or taking up space on your hanging rods.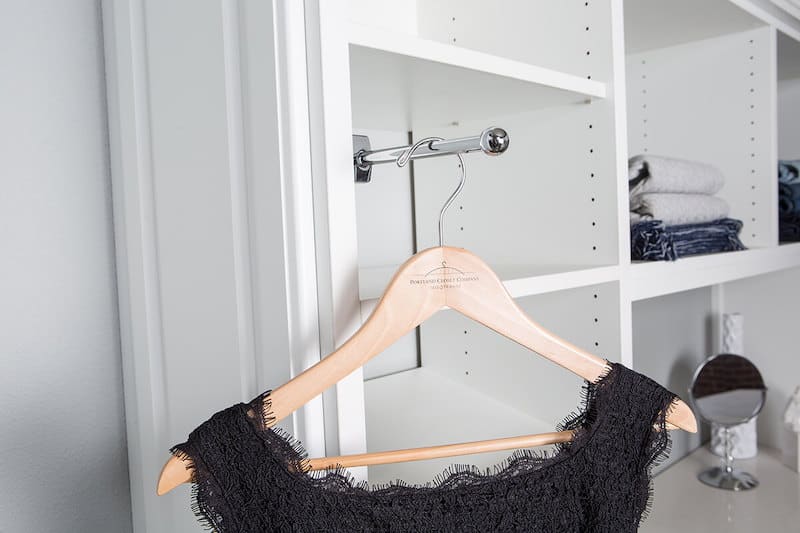 Valet Rod
Our Valet Rods are perfect for planning our outfit for the day, or helping you to not forget to pack that blazer. The sleek and simple design has proved valuable in countless custom closet designs. Ask your designer about this great accessory.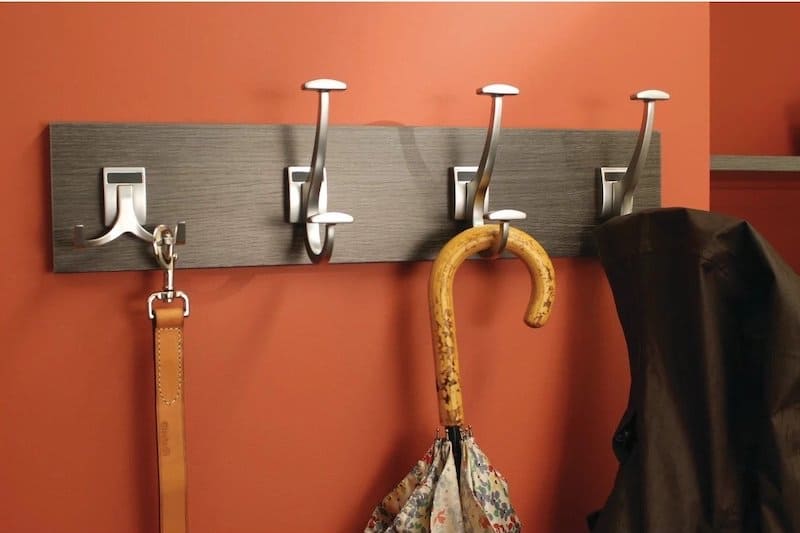 Hooks
Simple yet very effective, you can never go wrong with hooks in your closet. Hang up the coats you wear the most in winter or the purse you use most in the summer. With many choices to pick from, we're sure to have an option that fits your style.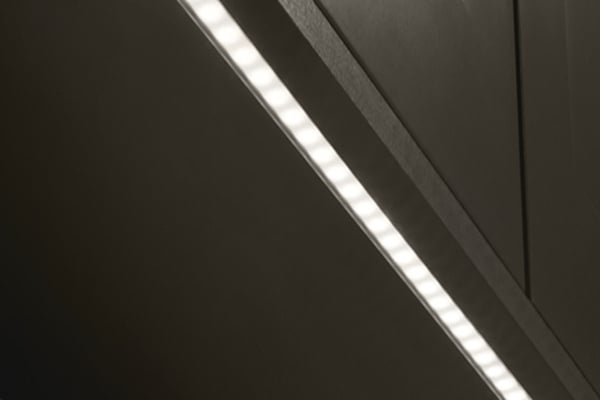 LED Lighting
Nothing brings a custom closet design together better than our energy efficient LED lighting options. From strip lights to puck lights, let us help you illuminate your new custom designed walk-in closet.
Choose the Space You Want to Customize & Transform. We'll do the Rest!
---
Enjoy quality craftsmanship, custom designed for your space, style, and budget. We'll design, manufacture, and install your project. We provide 3D video and photo renderings to help you visualize your project better. Thank you for supporting a local, family owned business!
SCHEDULE A FREE DESIGN CONSULTATION
---
Meet in the comfort of your home or in our Pearl District showroom!
GET STARTED TODAY