100% Custom Designed to Fit Your Space, Needs & Budget
Short Lead Times to Installation Compared to Other Providers
Best Overall Value & We Stand Behind It With Our Price Guarantee*
Professional Installation by Experienced Installers
Custom Wardrobe Closet for Any Size, Any Storage Solution
---
Sometimes, the only option for clothes is a custom built-in wardrobe closet. In the past, closets were often on the smaller side, even the closets in the master bedroom were not much bigger than a modern day coat closet. While we love older homes, the one thing they usually lack is adequate closet space. At Portland Closet Company, we don't let that stop us. A wardrobe closet is perfect for adding much needed storage space in older homes without the need for a costly remodel or sacrificing the aesthetics. We will customize your wardrobe so it looks like it was built-in. There are plenty of options to choose from for a wall-to-wall wardrobe unit.

See Built-in Wardrobe Closet Designs Ideas & Inspiration
Wardrobe Closet Custom Built-in
---
This home needed more than a closet and opted for a custom built-in closet wardrobe system fully enclosed. Out of sight out of mind with this custom wardrobe design.
• Fully enclosed with doors and drawers with a white bianco finish to upgrade that look of the entire system.
• Wardrobe behind doors and LED lighting to light your clothes and accessories.
• Maximize space with angled/sloped ceiling with upgraded trim work
Wardrobe Closet with Dresser Built-in
---
A custom wall-to-wall wardrobe closet design and install for a high-end luxury home builder. Complete with double drawer banks and countertop for your everyday items.
• Long handles for the full length doors and shorter for the drawers and uppers.
• From the floor-to-ceiling with crown to trim out the top to not allow dust to collect.
• Upper storage for the non-everyday or seasonal items that can be tucked away.
• Bianco TFL finished with an eased edge profile to eliminate the sharp edges of the standard edgebanded material.
Wardrobe Closet with Glass
---
A bedroom wardrobe closet system with clean lines and traditional modern style. This floor-to-ceiling wardrobe adds storage where needed and provides a more elegant look than a standard custom closet. Well placed doors and drawers conceal storage to provide peace of mind.
• A more traditional chocolate pear wood grain finish and extra long handles to provide a more aesthetically pleasing look.
• A top cap across the system to make it look fully enclosed and built-in.
• Mixture of adjustable shelving and hanging on the interior of the system.
Wardrobe Closet with Glass
---
A wardrobe built-in to hide clothing, shoes, and accessories behind deep cabinets. Unique angles too workaround in this design and ceiling vent. A fresh modern look with some accent colors to bring the system out more.
• Modern white finish with arched satin nickel handles.
• Gray accents finish around the doors with frosted glass.
• Modern slab front faces for the doors and drawers.
Fully Customizable Wardrobe Closet Designed to Fit Your Budget & Space
---
Custom Specifications

Belt & Tie Racks

Shoe Storage

Finishes & Colors
Adjustable Shelving

Drawers & Doors (many styles)

Jewelry Tray Organizers

Floor Based or Floating Systems
Many Hamper Options

Valet Rod

LED Lighting

Many Accessories + More!
Don't Take Our Word, Hear What Clients Say About Our Wardrobe Closets

140+ Five-Star Reviews!
---

"We recently had a custom wardrobe closet install from Portland Closet Company and we couldn't be happier! Installer very much respected our home and left the job site clean at the end of each day, even doing some of the cuts outside so that sawdust wouldn't disrupt our bedroom. He was careful and we appreciated his attention to detail. We're really thankful to Portland Closets and definitely recommend them for your closet install."
Custom Wardrobe Closet Review

"From my first and only visit to the showroom to Lauren's visit to my condo in order to measure and help me design the layout for the closet, and to the installation by Cal, I was very pleased with everyone's promptness and attention to detail. The result is a functional and very attractive custom built-in wardrobe closet. Portland Closet's prices were much better, and most important is that the quality of the product far surpasses those other stores."
Built-in Wardrobe Closet Review
Read More 5-Star Reviews on Our Wardrobe Closet Projects
On Average, Our Built-in Closet Wardrobes Cost
Less Than Other Custom Wardrobe Companies in Portland
Our clients, on average, save lots of on their projects. We strive to offer the best overall value when it comes to price and quality for your custom reach-in or walk-in closet, murphy bed, home office, garage storage cabinets, custom pantry, or other project!
Locally, Family Owned and Operated for 35+ Years
One of the Most Experienced Wardrobe Closet Providers in Oregon
Let's face it, lead times are crazy nowadays. Not for Portland Closets; on average, our lead time to installation is about 3 weeks for in stock items. Remodels are stressful and waiting stinks, especially for an installation. We do our best by striving to have short lead times. Whether it is a walk-in closet, Murphy wall bed, garage storage, kitchen pantry cabinets, home office, laundry room cabinets or custom built-in, we'll make sure to do everything humanely possible to get your installation in a timely manner. No more waiting 2-3 months for your install. From initial appointment to design to install in less than 2 weeks for this project! Check it out here from one of our clients!
How We Transform Your Storage & Organization with a Custom Built-in Wardrobe in 4 Simple Steps
1. Schedule a Free Wardrobe Closet Design Consultation
We connect you with one of our experienced, seasoned design consultants. They will assess your vision, space, style, needs & budget and collaborate on an awesome wardrobe closet design.
2. Awesome 3D Video & Model Renderings of Your Wardrobe
Your reach-in designer will create inspiring 3D digital renderings of your future space so that you can better your new custom space. Together, you'll revise the design until it's exactly what you want.
3. Custom Built Wardrobe & Locally Manufactured
We custom build your wardrobe closet with the best materials in North America and Europe from the hardware to the finish. We locally cut and build your system in our shop in Portland, Oregon. Always local!
4. Professional Installation by Experienced Installers
We only hire experienced installers and they are always employees. Our professionals will install your custom system. Enjoy your new space with a worry free limited lifetime warranty.
Wardrobe Closet Ideas to Maximize Your Storage & Organization
---
More often than not, the closet is one of the last rooms homebuilders think about and sometimes this can lead to less than ideal closet space, especially in older homes. Why spend the money on a costly remodel to make your closet bigger? Allow us to help you design a custom built-in wardrobe closet. Making the most out of often under-utilized wall space, our built-in wardrobe closets are a great option for those living in historical homes, older bungalows, or for those just needing the extra space your walk-in couldn't provide. But they don't have to go into the bedroom. Let us design you a hallway wardrobe closet for extra storage. Or put one in your home office to help it double as a craft room. This versatile type of closet is able to fit wherever you want, all we need is an open wall.

Why Choose Portland Closet Company for Your Wardrobe Design?
---
Planning is Free, No Obligation

Price Match*

5-Star Service

Best Value for Your Money
Unsurpassed Warranty

15,000+ customers

Floating Closet Systems

Floor Based Closet Systems
Trusted Since 1985

Locally Operated

Family & Locally Owned

Independent + Much More!
Almost Limitless Design Options
---
Our custom designed wardrobe closets are a great alternative to bulky dressers and random armoires. The most popular addition to these spaces is a built-in custom closet organizer system which has been carefully and professionally designed to store & display clothing and accessories, maximize the storage space of the wardrobe, and work with the flow of how one will use their closet. Furthermore, the wardrobe closet will be constructed in a way that is easy to adjust as your life changes overtime. A well-designed custom built-in wardrobe system can allow the most efficient and effective use of the entire walk-in closet and potentially double the amount of space that was previously available. Here are just a few of the options: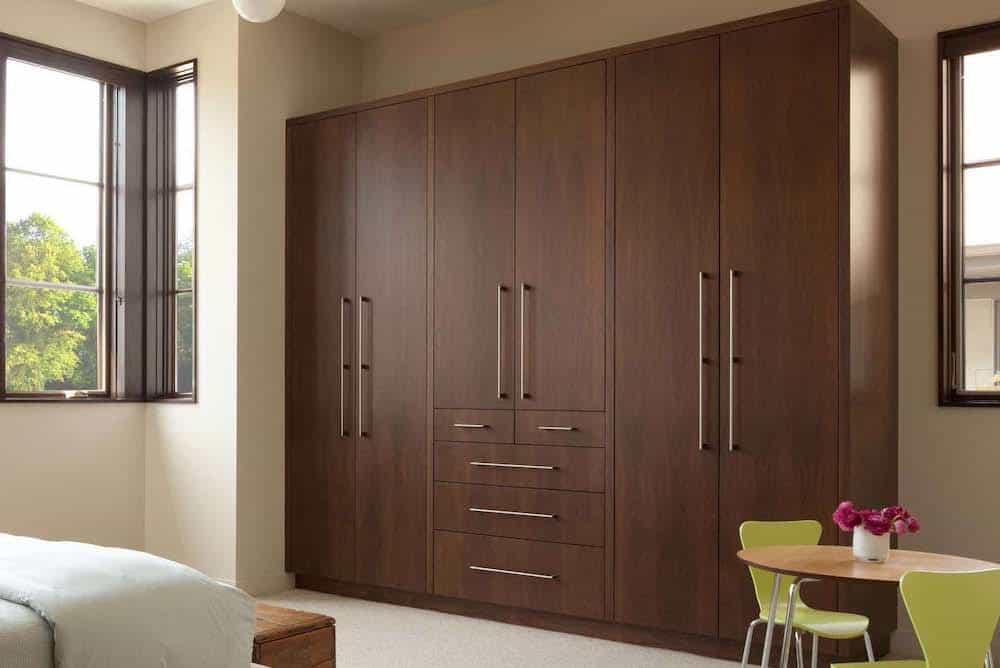 Drawers & Doors
Tired of clutter and want to keep all of your clothing out of site? We can customize a built-in wardrobe with doors and drawers. With plenty of choices of finishes you can match the rest of your system or go with an accent color. Flat, Shaker, or one of our other styles of door face will be sure to make your custom system truly fit your unique style.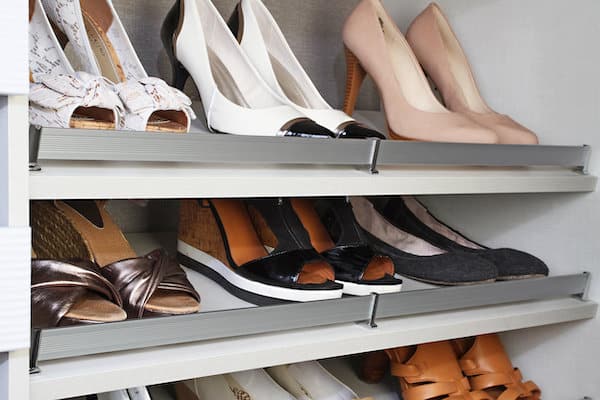 Shoe Racks & Storage
Organizing your shoes has never been easier. Go with flat or slanted shoe shelves, to add some extra flair to your wardrobe closet. With the adjustable shelves, even your tallest boots or flattest flats will have a space here. We can also install a pullout shoe rack organizer to free up valuable space for other items.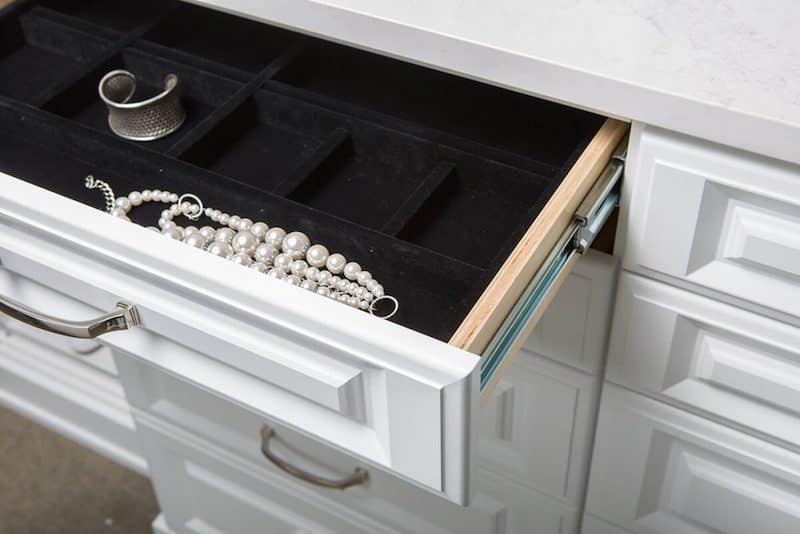 Jewelry Organizers
Our felt-lined, multi-compartment jewelry trays are perfect for organizing your necklaces, bracelets, or rings. We don't just help you keep your jewelry organized, we can also help keep it safe with locking jewelry drawers. Moreover, you can opt for a custom made jewelry tray organizer to fit your precise needs.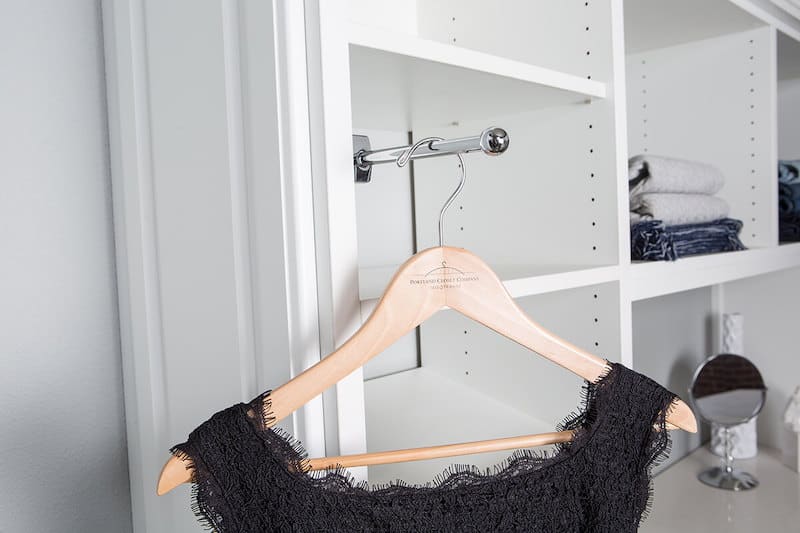 Valet Rod
Our Valet Rods are perfect for planning our outfit for the day, or helping you to not forget to pack that blazer. The sleek and simple design has proved valuable in countless custom wardrobe closet designs. Ask your designer about this great accessory.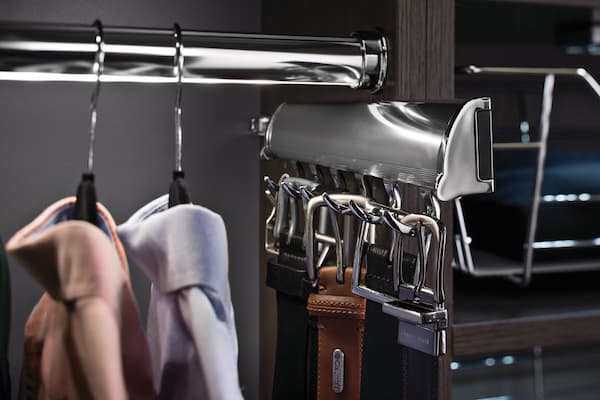 Belt & Tie Racks
Keep your belts and ties visible and organized with sliding belt and tie racks. Save space while adding functionality to your custom closet. A must have accessory for any wardrobe closet.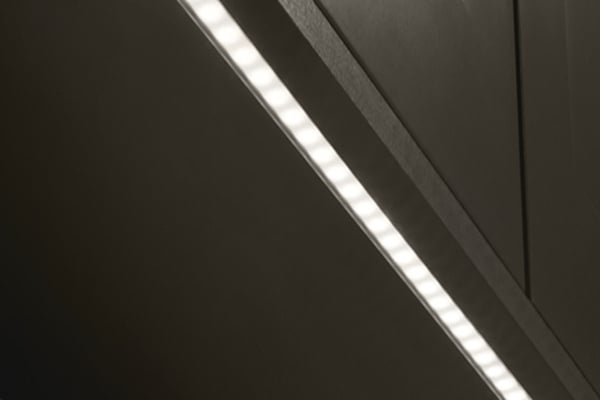 LED Lighting
Nothing brings a custom closet design together better than our energy efficient LED lighting options. From strip lights to puck lights, let us help you illuminate your new custom designed wardrobe closet.
Choose the Space You Want to Customize & Transform. We'll do the Rest!
---
Enjoy quality craftsmanship, custom designed for your space, style, and budget. We'll design, manufacture, and install your project. We provide 3D video and photo renderings to help you visualize your project better. Thank you for supporting a local, family owned business!
SCHEDULE A FREE DESIGN CONSULTATION
---
Meet in the comfort of your home or in our Pearl District showroom!
GET STARTED TODAY