100% Custom Designed to Fit Your Space, Needs & Budget
Short Lead Times to Installation Compared to Other Providers
Best Overall Value & We Stand Behind It With Our Price Guarantee*
Professional Installation by Experienced Installers
Transform Your Hobby Craft Room with Our Custom Storage & Organization Solutions
---
Whatever your crafting passion is, and however long you spend on it, you will enjoy doing it more in a space designed to help, not hinder creativity. We make use of every inch with storage customized to fit into any space. Whether you know exactly what you want to store in your craft room, or you simply want everything hidden away from sight, your room will look great, even if you have an abundance of clutter. Common craft room storage features include:
Work Surface
Custom corners maximize every inch of your kitchen pantry space.
Supply Storage Drawers
Keep any item within reach with pull-out drawers of various sizes.
Gift Wrapping Storage
Vertical dividers take advantage of thin sheets, pans, and platters.
Custom Craft Room Storage and Cabinets
---
This custom craft room design is perfect for whatever sort of crafting you do. A large island with a laminate countertop is the ideal work space for your projects. With storage along the island and numerous cupboards and doors around the space, this space will keep you well organized and, hopefully, neat and tidy.
• Wrapping paper and ribbon holders are the perfect addition for anyone who takes pride in their gift wrapping skills.
• Crisp white finish makes the black countertop and drawer/door pulls really stand out.
• Shaker style cabinet door adds a touch of classic style to this otherwise modern design.
Craft Room with Work Desk Areas
---
White stone countertops and a clean, white finish make any color you bring into this craft room really pop. With a mixture of drawers, cabinets, and open shelving you'll have a space for all of your supplies and projects. Don't forget that wrapping paper holder, easy to place in almost every custom craft room design.
• Brushed nickel drawer and door pulls lend to the modern aesthetics of the room.
• Shaker style door and drawer faces match the already existing closet doors to tie the room together and make this system feel truly built-in.
• Crown molding along the top of the installation provides a wonderful finishing touch to a beautiful design.
White Large Walk-in Custom Craft Room
---
Your craft room is your oasis. Let us help you design something that works for you. A white finish with bulky black pulls for the doors and drawers really makes this modern style craft room feel unique. A small island with storage underneath and white stone countertop is the perfect place to lay out fabric while sewing or wrapping those gifts for the holidays.
• Large cabinets provide storage for even the bulkiest bolts of fabric or skeins of yarn.
• Adjustable shelving helps to create a custom space, no matter what project you're working on.
• Customize the layout and design for your ultimate craft room.
Fully Customizable Craft Room Designed to Fit Your Needs & Space
---
Custom Depths & Widths

Corner Units

Pull Out Trays & Wire Baskets

Finishes & Colors
Adjustable Shelving

Doors (many styles)

Drawers (many styles)

Floor Based or Floating Systems
Vertical Sheet Pan Dividers

Custom Table Surface

LED Lighting

Much More!
Don't Take Our Word, Hear What Clients Say About Our Custom Craft Rooms

140+ Five-Star Reviews!
---
On Average, Our Craft Room Storage Projects Cost
Less Than Other Custom Craft Companies in Portland
Our clients, on average, save over lots on their projects. We strive to offer the best overall value when it comes to price and quality for your custom reach-in or walk-in closet, murphy bed, home office, garage storage cabinets, custom pantry, or other project!
Locally, Family Owned and Operated for 35+ Years
One of the Most Experienced Custom Craft Room Providers in Oregon
Let's face it, finding a company that has real customer service is difficult especially with larger companies and franchises that have their bureaucracy. From its inception, Portland Closet Company has stood for doing the right thing for our clients, our employees and their families, our community and our environment. With over 15,000 clients and 35+ years in the business, we are experts in designing, manufacturing, and installing custom closets, home office setups, garage cabinet solutions, murphy wall beds, and custom storage organization. Our designers have years of experience and are ready and willing to help you design the perfect custom solution for your space.
How We Customize & Transform Your Craft Room in 4 Simple Steps
1. Schedule a Free Craft Room Design Consultation
We connect you with one of our experienced, seasoned design consultants. They will assess your vision, space, style, needs & budget and collaborate on an awesome custom room design.
2. Awesome 3D Video & Model Renderings
Your craft room designer will create inspiring 3D digital renderings of your future space so that you can better your new custom space. Together, you'll revise the design until it's exactly what you want.
3. Custom Built Craft Room & Locally Manufactured
We custom build your craft room storage with the best materials in North America and Europe from the hardware to the finish. We locally cut and build your system in our shop in Portland, Oregon. Always local!
4. Professional Installation by Experienced Installers
We only hire experienced installers and they are always employees. Our professionals will install your custom system. Enjoy your new space with a worry free limited lifetime warranty.
Craft Room Design Ideas for Your Custom Space
---
Whether it's scrapbooking, model ships, gift wrapping, or miniatures, we can help you design a craft room storage solution that is sure to keep all of your important, and expensive, crafting supplies tucked away. Our custom designs take what you need into account and make your space work for you.
Almost Limitless Design Options
---
Our craft room storage, cabinets, and systems are customized to match your lifestyle and individual needs, with full installation. There are no limits to what we can do for you. Here are just a few of the options: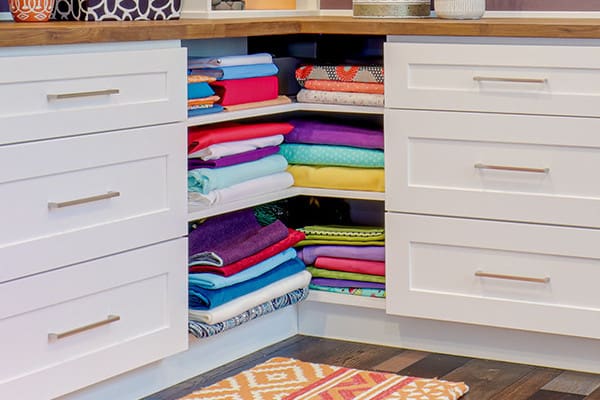 Corner Shelves
Make sure you're utilizing every inch of your precious storage space with unique corner shelving. We will make sure that every skein of yarn and every piece of fabric is tucked away and that we're making the most out of your space.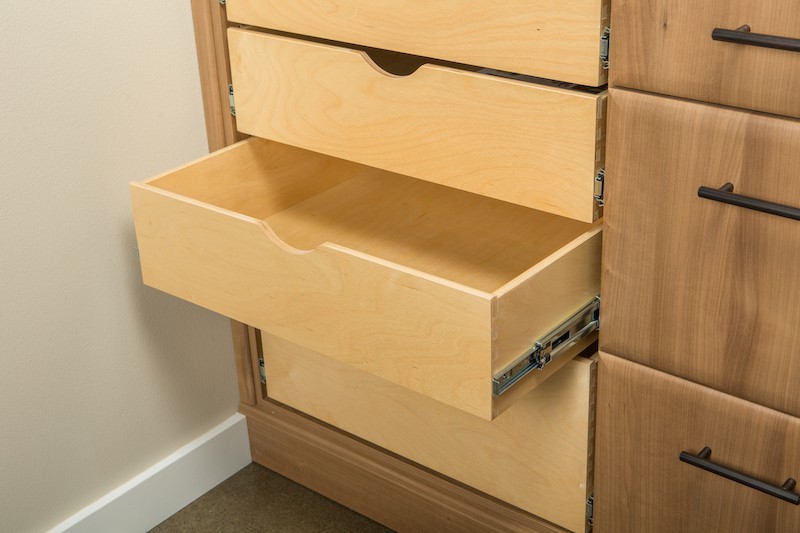 Pull Out Trays & Drawers
Need a place to organize your supplies or a place to keep the unfinished products out of sight? Let us help you with our selection of pullout trays and drawers. Choose from a variety of pull options and drawer types to best suit your needs and your aesthetic.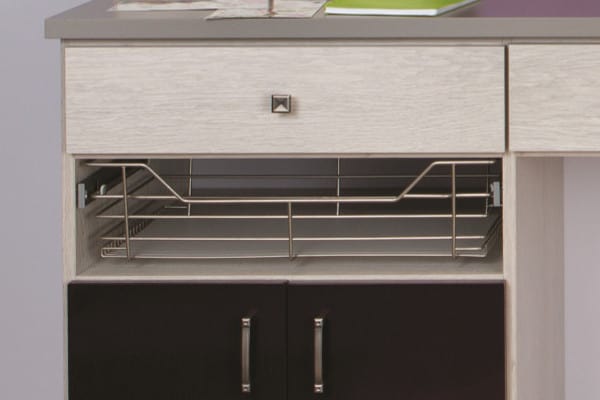 Pullout Wire Baskets
Perfect for yarn, fabric, or other bits and bobbles you need for crafting. Our pullout wire baskets come in a range of sizes. We'll make sure that we're using the best size for you space and needs.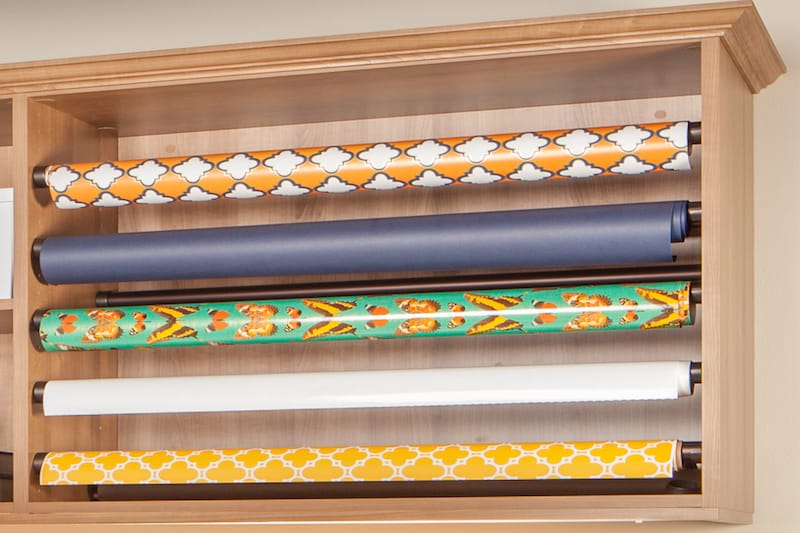 Gift Wrapping Station
Organize your wrapping paper, ribbons, and cards all in one place. With a sturdy countertop to work on easy access to all the things you'll need, our custom gift wrapping station will help you make someone's day with the perfectly wrapped gift.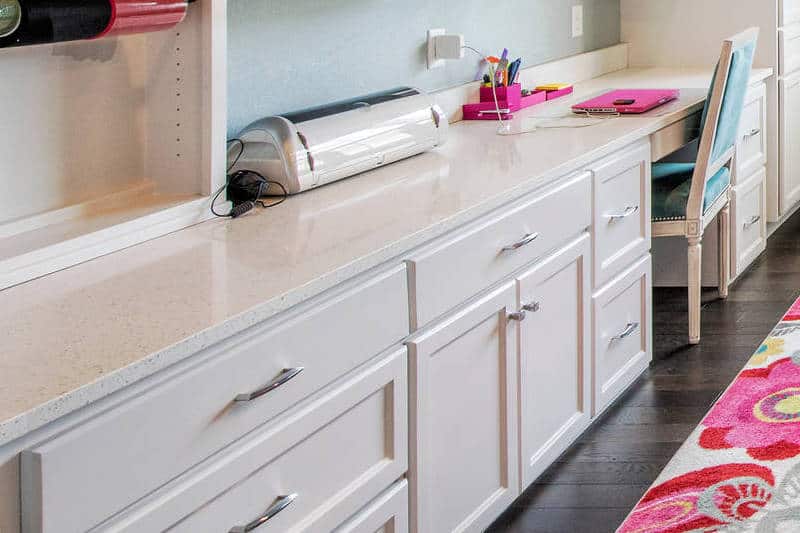 Surface & Countertops
Choose from a wide selection of different materials for your countertops and surfaces. Stone, laminate, formica, or wood, we can help you to choose the best material for your needs as well as your budget.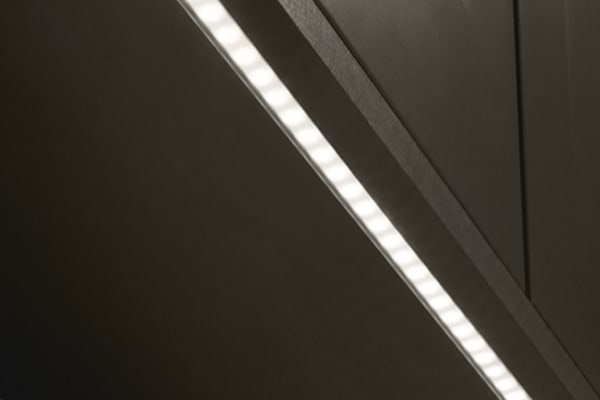 LED Lighting
What good is organizing all of your materials if you can't see any of it. Let us help you illuminate your supplies with energy efficient LED Lighting. Whether it is LED strips or overhead puck lights, we will figure out what works best for you.
Choose the Space You Want to Customize & Transform. We'll do the Rest!
---
Enjoy quality craftsmanship, custom designed for your space, style, and budget. We'll design, manufacture, and install your project. We provide 3D video and photo renderings to help you visualize your project better. Thank you for supporting a local, family owned business!
SCHEDULE A FREE DESIGN CONSULTATION
---
Meet in the comfort of your home or in our Pearl District showroom!
GET STARTED TODAY