100% Custom Designed to Fit Your Space, Needs & Budget
Short Lead Times to Installation Compared to Other Providers
Best Overall Value & We Stand Behind It With Our Price Guarantee*
Professional Installation by Experienced Installers
Transform Your Laundry Room with Custom Cabinets, Storage & Organization Solutions
---
Maximize storage and increase efficiency with a customized laundry room closet or utility room organization system. Make the chore of washing clothes an easy and hassle-free experience. Common laundry and utility room features include:
Folding Counter
No one enjoys piles of clean clothes. A counter is a must-have in a utility room
Ironing Board
For the rare, special occasions, use a pullout ironing board hidden away in a drawer.
Hanging Station
For clothes that need to be hung dry, stress no more with out-of-the-way hanging rods.
Simple, Yet Practical Small Laundry Room Design
---
Custom-designed walk-in laundry room that makes use of every inch of this space to maximize storage. Upper and lower laundry storage cabinets to better use the space. A light Folkstone finish helps it blend in and make the room feel larger.
• Custom countertops that come in handy for folding laundry and being a laundry taskmaster.
• Shaker doors to contribute to the aesthetic style giving it a modern touch.
• Floating shelf in-between for towels and other items.
Laundry Room Design with Custom Cabinets & Glass Doors
---
Custom-designed walk-in laundry room that makes use of every inch of this space to maximize storage. Upper and lower laundry storage cabinets to better use the space. A woodgrain finish brings out this system and under cabinet efficient LED lighting brings much needed light to traditionally darker areas.
• Custom countertops that come in handy for folding laundry and being a laundry taskmaster.
• 5-piece Shaker glass door with a pattern and beveled drawer fronts contribute to the transitional aesthetic with decorative handles.
• Wire pullout baskets with a chrome finish that can be used for everyday towels or organizing and sorting laundry.
Custom Walk-in Laundry Room Cabinets
---
This larger walk-in laundry room design has lots of cabinet storage which makes this custom utility room efficient yet elegant. It boasts wrap-around custom cabinetry and stone countertops and many other features that makes any homeowner envious. Furthermore, the traditional crown offers an elegant finished look.
• Quartz wrap-around countertop with a finish that blends seamlessly with the cabinets.
• Custom upper and lower laundry room cabinets to fit the uniqueness and quarks of your home.
• Satin nickel round knobs and handles add a touch of modernity.
• Shaker doors and drawers to subtly bring out the system a little more.
• Hanging clothes bar for hang drying the more delicate clothing.
Custom Laundry Room Storage & Organization
---
This smaller custom laundry room storage requires thoughtful design expertise to use every inch of space. Moreover, it is a workhorse utility room loaded with extra accessories to provide more functionality. In addition, the washer and dryer are enclosed with an open cabinet that provides a modern finished and built-in look.
• White modern finish with shaker doors, slab drawer faces, and black bronze handles.
• Upper and lower cabinets to maximize storage with adjustable shelving allowing for items of different heights and adaptability as needs change.
• Chrome pull-out wire baskets to help organize clean and dirty laundry or for linen storage.
Custom Laundry or Utility Room Designed to Fit Your Needs & Budget
---
Custom Depths & Widths

Pullout Wire Baskets

Upper & Lower Cabinets

Finishes & Colors
Adjustable Shelving

Doors & Drawers (many styles)

Laundry Bags or Baskets

Pulls or Knobs
Countertop or Table Surface

Pull Out Trays

Utility Hooks

Fabric Options + Much More!
Don't Take Our Word, Hear What Clients Say About Our Custom Laundry Room

140+ Five-Star Reviews!
---

"We worked with Mo and Portland Closet Company to transform our mudroom/laundry room area and update 2 closets. The results were wonderful and we are so happy! Mo did an amazing job of taking our vision and wants/needs"
Laundry Room Storage Review

"We recently had Portland Closet Co. do our guest room and our utility room laundry room. It turned out even better than I had imagined. I'm so happy and I have so much more really functional storage that I can adjust as needed."
Laundry or Utility Room System Review

"Installation team was prompt, courteous and really efficient. Lauren, Mike the whole office great about calling back and answering questions. We installed 4 reach in closets, a MBR closet, laundry room, pantry and entry way coat closet. Everything looks great!"
Laundry Room Cabinet Review

"Alex designed our laundry room storage. Very pleased with the outcome. The installation crew was awesome. Everything was high quality, functional, and visually appealing. Highly recommend Alex and the Portland Closet Company."
Custom Laundry Room Storage Review
Read More 5-Star Reviews on Our Custom Utility Room Jobs
On Average, Our Custom Laundry System Cost
Less than other Laundry Room Organization Companies in Portland
Our clients, on average, save over lots on their projects. We strive to offer the best overall value when it comes to price and quality for your custom reach-in or walk-in closet, murphy bed, home office, garage storage cabinets, custom pantry, or other project!
Locally, Family Owned and Operated for 35+ Years
One of the Most Experienced Laundry Room Organization Companies in Portland Metro Area
Let's face it, finding a company that has real customer service is difficult especially with larger companies and franchises that have their bureaucracy. From its inception, Portland Closet Company has stood for doing the right thing for our clients, our employees and their families, our community and our environment. With over 15,000 clients and 35+ years in the business, we are experts in designing, manufacturing, and installing custom closets, home office setups, garage cabinet solutions, murphy wall beds, and custom storage organization. Our designers have years of experience and are ready and willing to help you design the perfect custom solution for your space.
How We Customize & Transform Your Laundry Room in 4 Simple Steps
1. Schedule a Free Laundry Room Design Consultation
We connect you with one of our experienced, seasoned design consultants. They will assess your vision, space, style, needs & budget and collaborate on an awesome custom design.
2. Awesome 3D Video & Model Renderings of System
Your laundry room designer will create inspiring 3D digital renderings of your future space so that you can better your new custom space. Together, you'll revise the design until it's exactly what you want.
3. Custom Built Utility Room & Locally Manufactured
We custom build your laundry room system with the best materials in North America and Europe from the hardware to the finish. We locally cut and build your system in our shop in Portland, Oregon. Always local!
4. Professional Installation by Experienced Installers
We only hire experienced installers and they are always employees. Our professionals will install your custom system. Enjoy your new space with a worry free limited lifetime warranty.
Custom Utility or Laundry Room System Design Ideas
---
There is always laundry to be done, so make sure your laundry room is a place you'll want to be. Maximize storage and efficiency without compromising on aesthetics. Built-in ironing boards and tilt-out hampers can make laundry less of a chore and more of an experience.
Almost Limitless Design Options
---
Our laundry room designs are customized to match your lifestyle and individual needs, and always includes full installation. There are no limits to what we can do for you. Here are just a few of the options: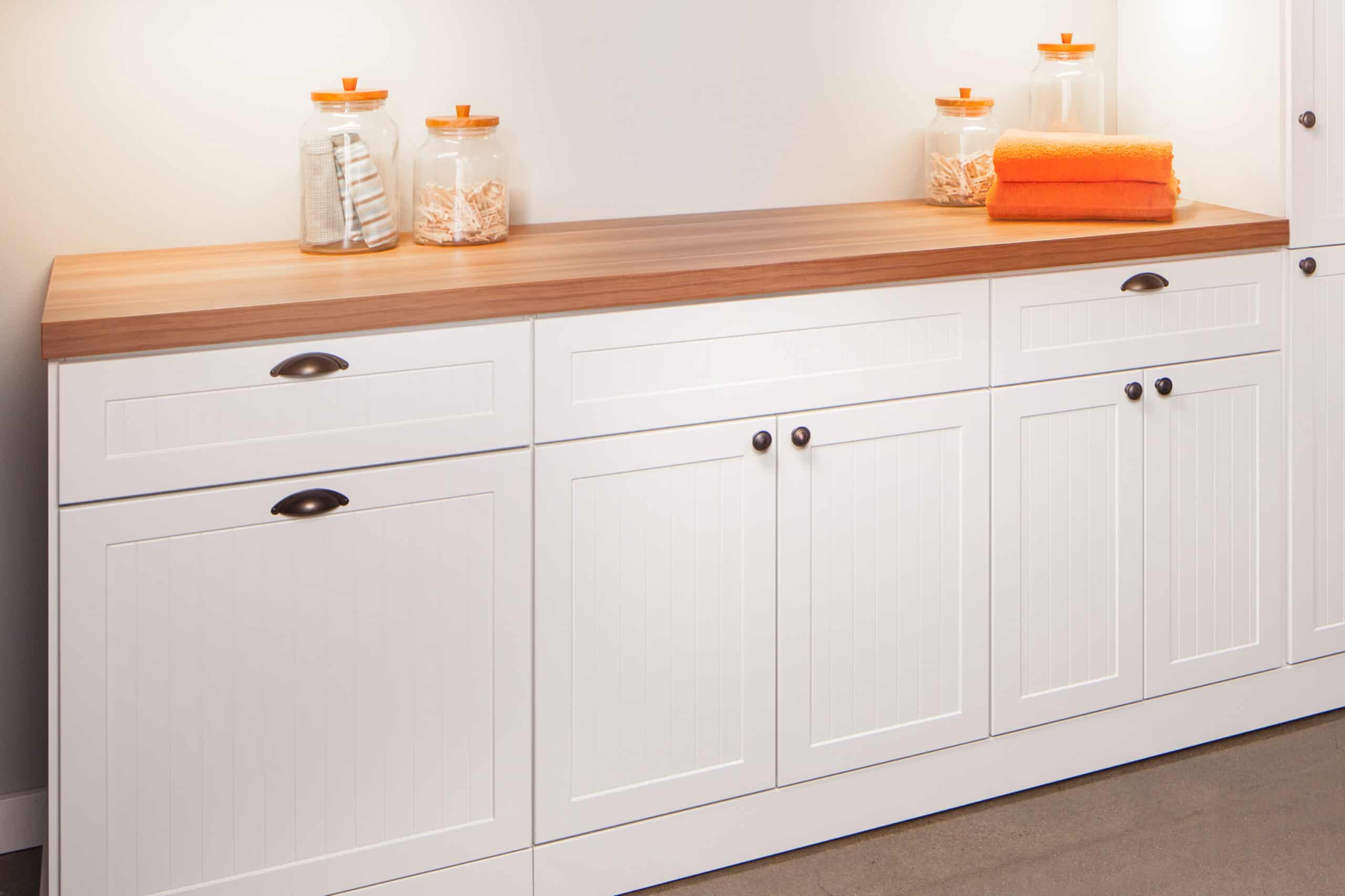 Folding Counter
A convenient place to fold clothes before moving them out of the laundry room, a countertop could be a focal point of your space. With choices like wood, laminate, formica, or stone, you'll be sure to enjoy this stylish and functional addition.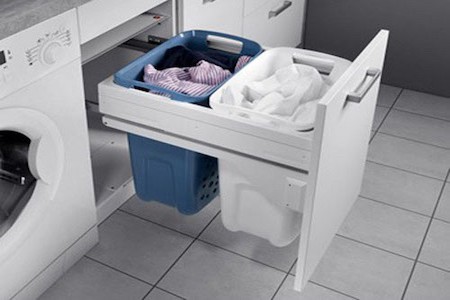 Pull Out Hamper
Keep dirty clothes and linens hidden from sight with a pullout hamper. Tucked away but easy to access, these hampers are mounted on smooth gliding rails with cloth bags that lift right out.
Tilt Out Hamper
If a pullout hamper won't work for your space, or you're just looking for something different, a tilt out hamper option is the way to go. These sturdy metal hampers look like a cabinet door, but tilt out for a convenient place to put your laundry.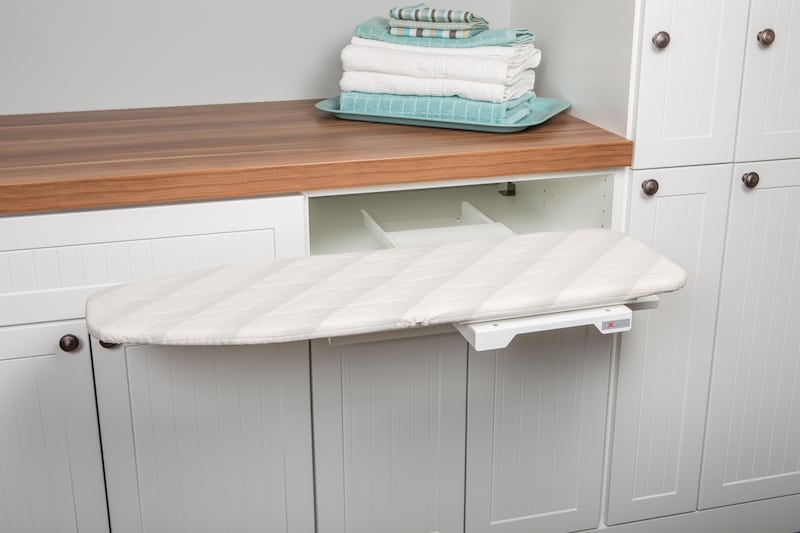 Pull Out Ironing Board
Save space with one of our pull-out ironing boards. No need to keep a bulky, cumbersome ironing board and set it up every time you need to use it. Just pull one out from under your countertop and your clothes will be wrinkle free.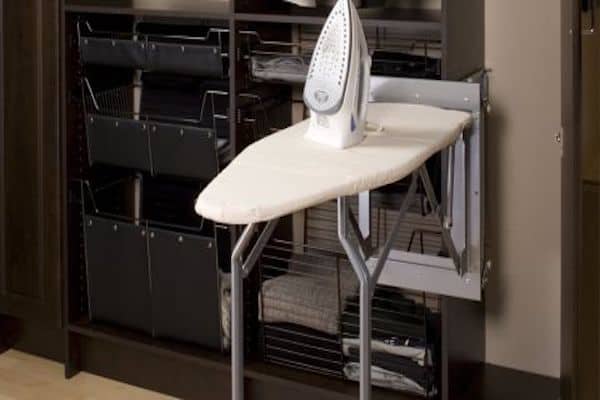 Ironing Board
Another option is a flip down Ironing Board. Have a dedicated space for all your ironing needs. Pair this with a pullout basket to store your iron or shelves to place your crisp, folded clothes.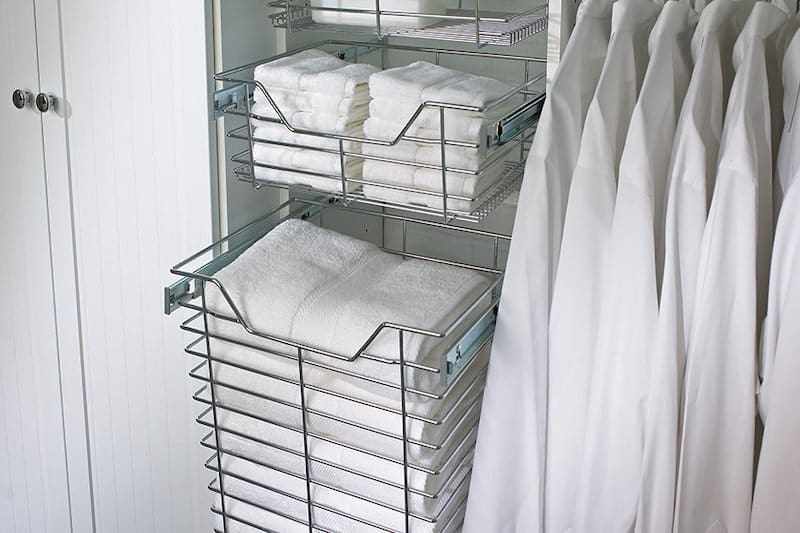 Pull Out Wire Basket
Keep all of your laundry essentials tucked away in some of our easy glide pull-out wire baskets. Great for detergent, dryer sheets, stain remover, and more.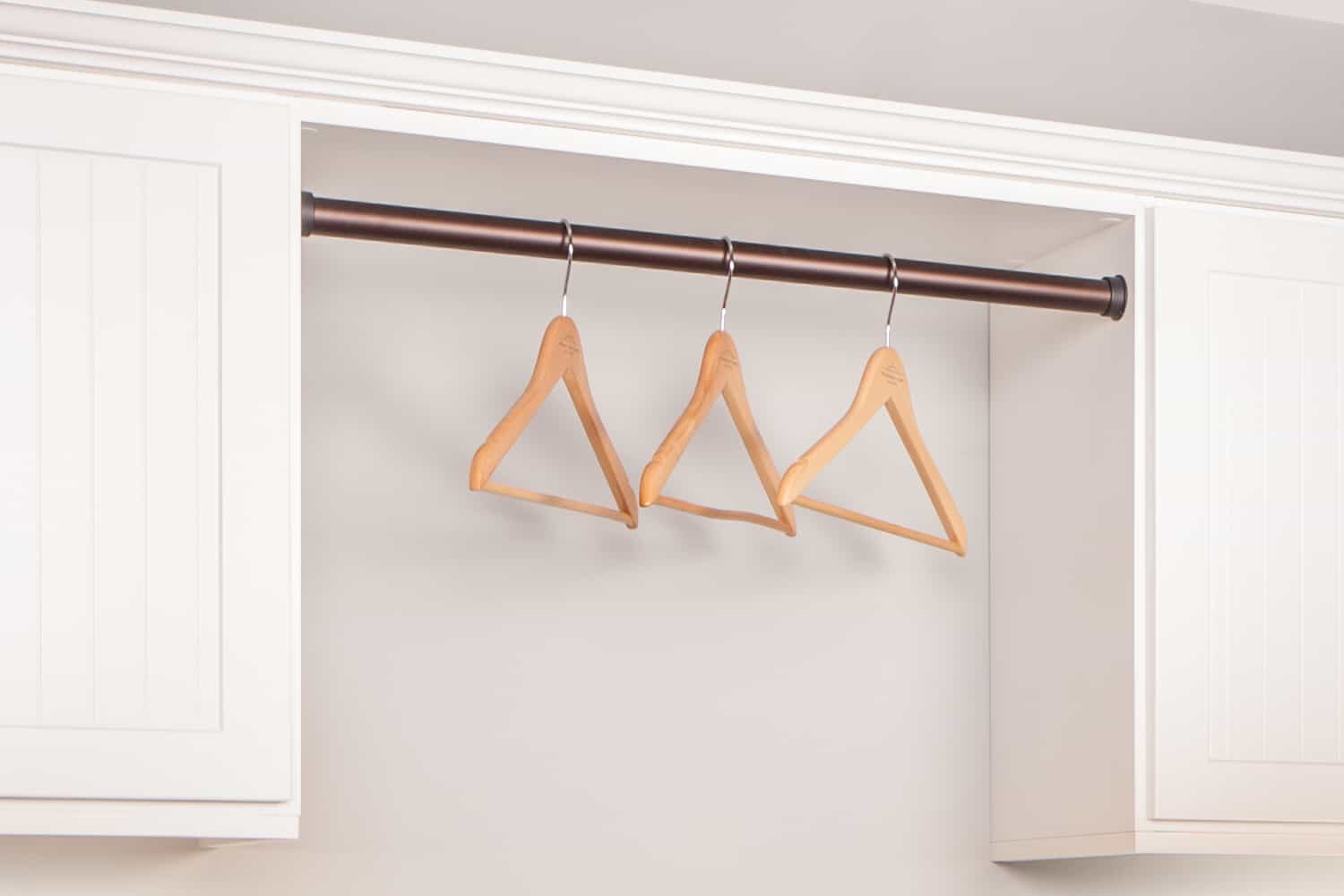 Rod for Hang Drying
For those more delicate pieces that can't be run through the dryer, let us install a rod to easily hang dry. With multiple options and finishes, there is sure to be something that fits in your home.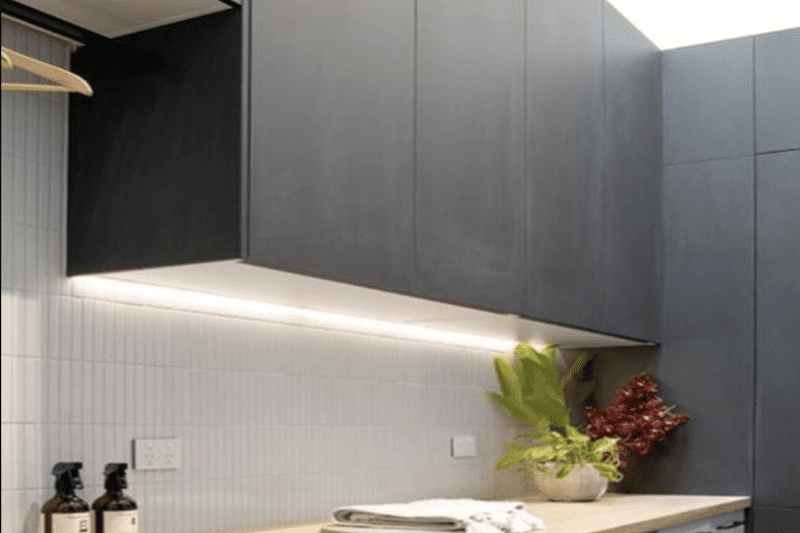 LED Lighting
Our energy efficient LED lighting options will make your laundry room feel less like a dungeon and more like the bright and beautiful space it was meant to be.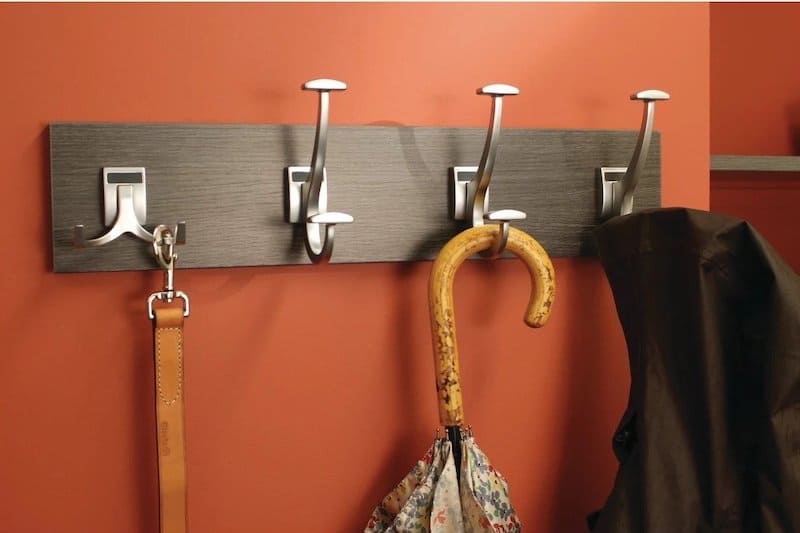 Utility Hooks
Laundry doesn't have to be the only thing you keep in your laundry room, with hooks for all of your needs, store your mop, broom, or dustpan in an easy to grab place that is off the floor.
Choose the Space You Want to Customize & Transform. We'll do the Rest!
---
Enjoy quality craftsmanship, custom designed for your space, style, and budget. We'll design, manufacture, and install your project. We provide 3D video and photo renderings to help you visualize your project better. Thank you for supporting a local, family owned business!
SCHEDULE A FREE DESIGN CONSULTATION
---
Meet in the comfort of your home or in our Pearl District showroom!
GET STARTED TODAY